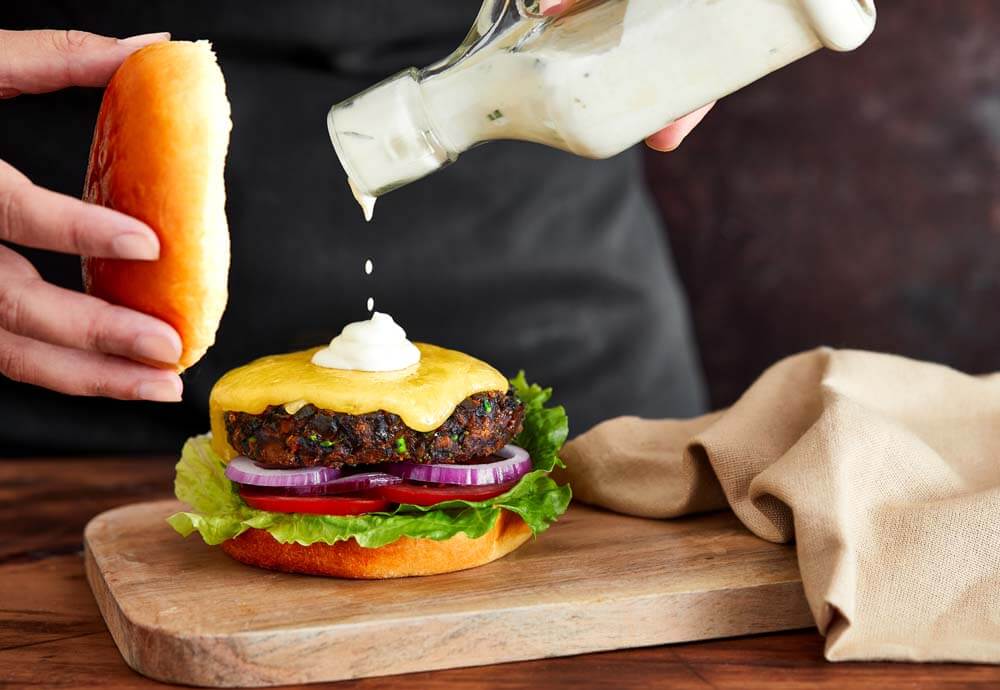 Portobello Mushroom Burger
Rich, indulgent and vegetarian. This gourmet veggie burger recipe is the perfect autumn treat, full of earthy, warm flavours and topped with our buttery-tasting Brioche Burger Buns, for an autumnal delight
Prep: 10-15 minutes
Serves: 6
Ingredients
For the mushroom burger:
6 St Pierre Brioche Burger Buns350g black beans, cooked
250g Portobello mushrooms, finely diced
70g fresh broccoli, chopped
2 tbsp minced garlic
75g red onion, finely diced
1 tbsp vegetarian Worcestershire sauce
3 eggs, beaten
25g vegetarian Parmesan cheese, grated
25g breadcrumbs
1 tbsp olive oil
For the toppings:
6 cheddar cheese slices
Lettuce leaves to serve
2-3 tomatoes thinly sliced
1 red onion, thinly sliced
Blue cheese sauce (optional)
Seasoning
Method
In a large bowl, mix the black beans, chopped mushrooms, broccoli, garlic, onion and Worcestershire sauce.
Add the beaten eggs, grated Parmesan cheese and breadcrumbs into a bowl and mix gently to incorporate all the ingredients.
Shape the mixture into six burger pucks – if they don't hold add more breadcrumbs – and cook in a pan with a little bit of olive oil on a medium heat for 3-5 mins each side.
Add the cheddar cheese slice on top of the burger towards the end of cooking to melt on top.
On the bottom of the Brioche Burger Bun, add a couple of pieces of torn lettuce, some slices of tomato and red onion. Then place a mushroom burger with melted cheese on top. Add blue cheese sauce on top of the burger if desired, and then place Brioche Burger Bun top on and enjoy!
6 Brioche Burger Buns
Pre-sliced, deliciously soft brioche buns, ready to be filled with your favourite burger. With a golden, plump texture to perfectly hold your filling together and a shiny glaze on top, this gently sweet brioche bun tastes great with every type of ingredient.
View product