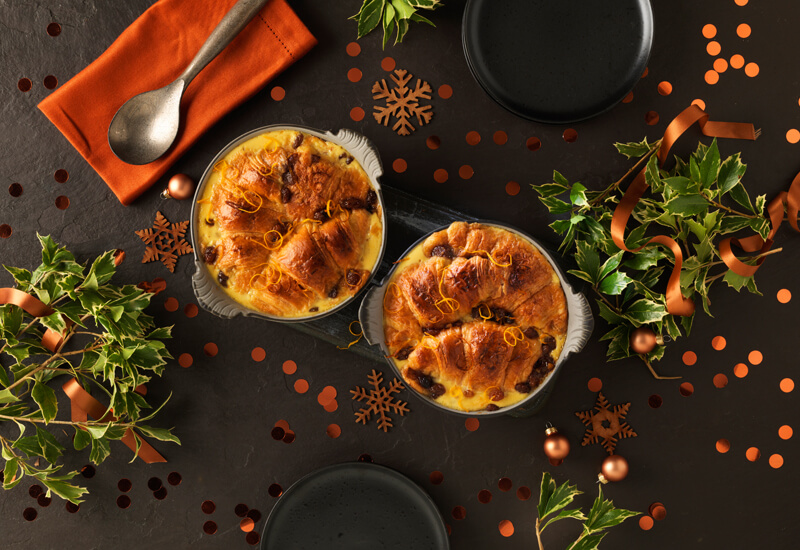 Recipe
Christmas Mince Pie Croissant Pudding
Christmas Mince Pie Croissant Pudding
Think mince pies crossed with a bread and butter pudding, but with croissants! A light but festive dessert everyone will love.
Ingredients
8 St Pierre Croissants, cut in half
1 tsp butter, to grease the dish(es)
200g mincemeat
500ml ready-made custard
150ml whole milk
To decorate:
Icing sugar, to dust
Zest of 1 orange
Method
Preheat the oven to 180°C / 160°C fan / Gas Mark 4
Depending on what dishes you have at home, either grease one large ovenproof dish or two smaller dishes with the butter
Slice the 8 St Pierre Croissants in half lengthways and spread the insides of the croissants liberally with mincemeat. Set a small amount of mincemeat to one sid
Arrange the bottom halves of the croissants in the ovenproof dish or dishes.
Mix the milk with the ready-made custard and pour half of the mixture over the croissants in the dish. Add the tops of the croissants to the dish and dot a small amount of the leftover mincemeat over the top of the dish
Pour over the rest of the custard mixture over the top of the dish and zest the orange over the top
Cover the dish loosely with foil and place on a baking tray. Bake in the oven for 25-35 minutes, depending on the size of the dish or until the dish is just set
Remove from the oven and dust with icing sugar and serve
6 Croissants
The staple of any Parisian bakery, our classic croissants are produced in France with an authentic soft texture and a delicious taste. Individually wrapped to maintain their freshness, they're great inside lunch boxes or warmed up as a snack.
View product
Where to buy