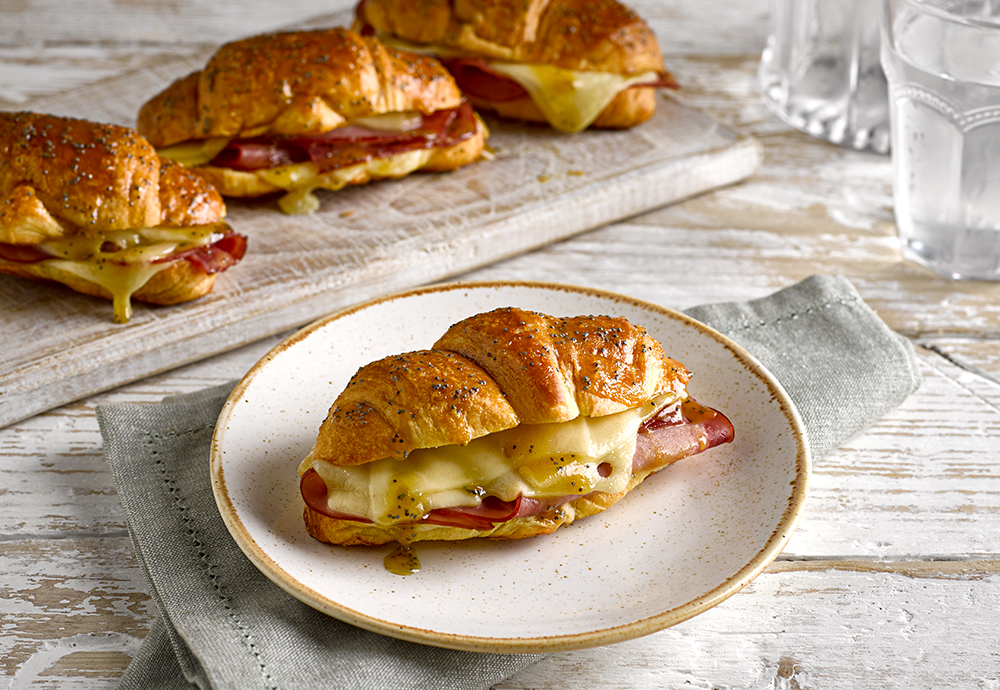 Recipe
Ham & Cheese Filled Croissant
Ham & Cheese Filled Croissant
Enjoy St Pierre's Ham & Cheese Filled Croissant recipe for a delicious brunch, lunch or savoury snack.
Ingredients
4 St Pierre All Butter Croissants
4 slices of ham
4 slices of cheese (we like Swiss best!)
1 tbsp Dijon mustard
1 tbsp honey
1 tbsp brown sugar
1 tbsp poppy seeds
Method
Pre-heat the oven to 180°C
Slice each croissant in half, horizontally
Fill with a slice of ham and a slice of cheese
Add the mustard, honey, brown sugar and poppy seeds to a bowl and mix together
Re-assemble the croissants, and then spread the mustard mixture over the top
Place on a baking tray in the oven for 8-10 minutes
Remove from the oven when cheese has melted and they are golden brown in colour, allow to cool for a moment, then enjoy.
Bon appétit!
4 All Butter Croissants
Made using an authentic French recipe, these All Butter Croissants are the perfect way to start any day. Beautifully light and deliciously flaky – especially when freshly warmed in the oven – they're a great way to enjoy a classic French breakfast (or a tasty snack) any time of day.
View product
Where to buy