Halloween
Valentine's Day
Mother's Day
Easter
National Brioche Day
Father's Day
All
BBQ
Halloween
Bonfire Night
Christmas
Valentine's Day
Mother's Day
Easter
National Brioche Day
Father's Day
BBQ
Halloween
Bonfire Night
Christmas
Take your Valentine's Day to the City of Lights with St Pierre.
View Valentine's Day recipes
Give your "maman" a taste of Paris for Mother's Day with St Pierre.
View Mother's Day recipes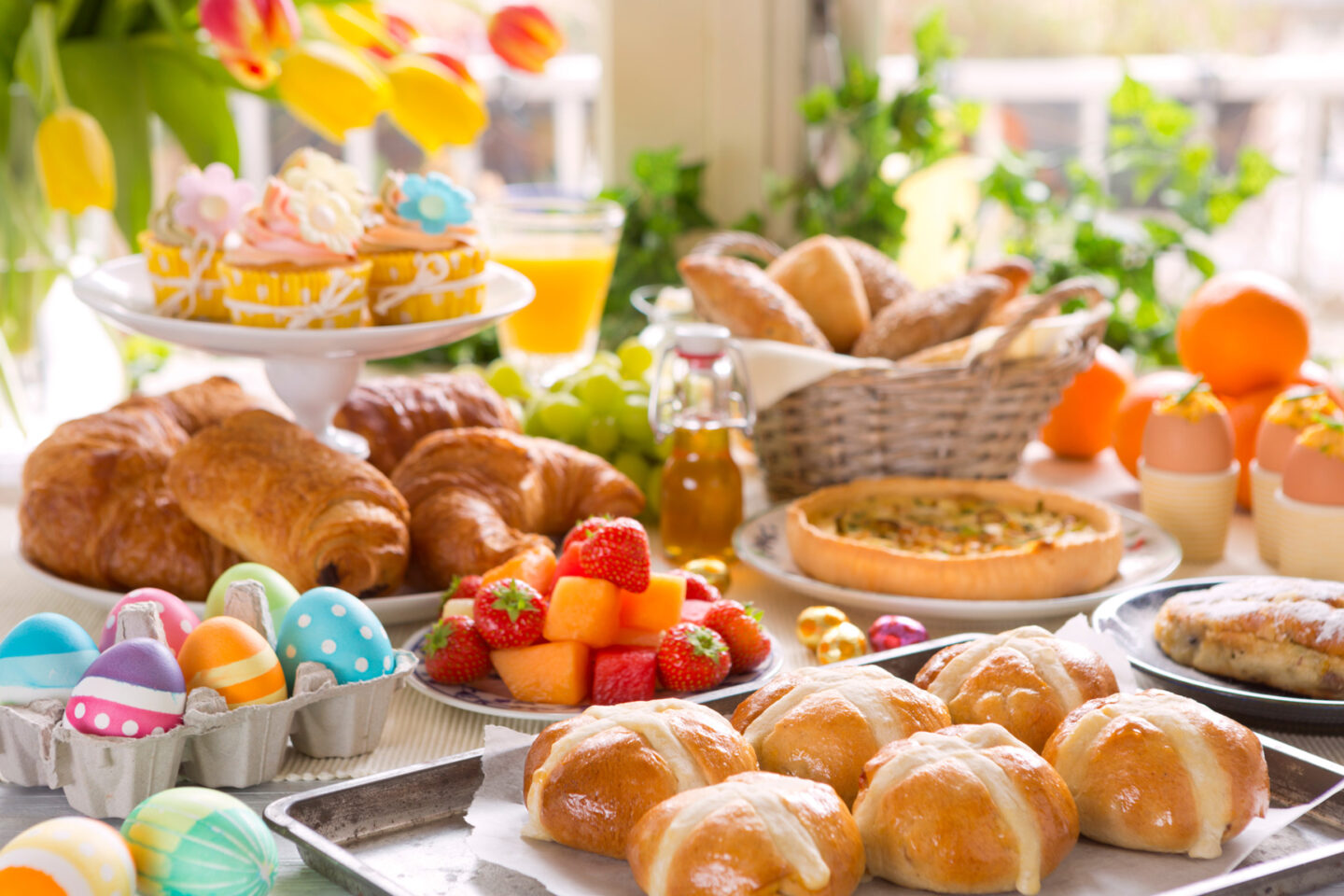 Add some French sweetness to your Easter celebrations with St Pierre.
View Easter recipes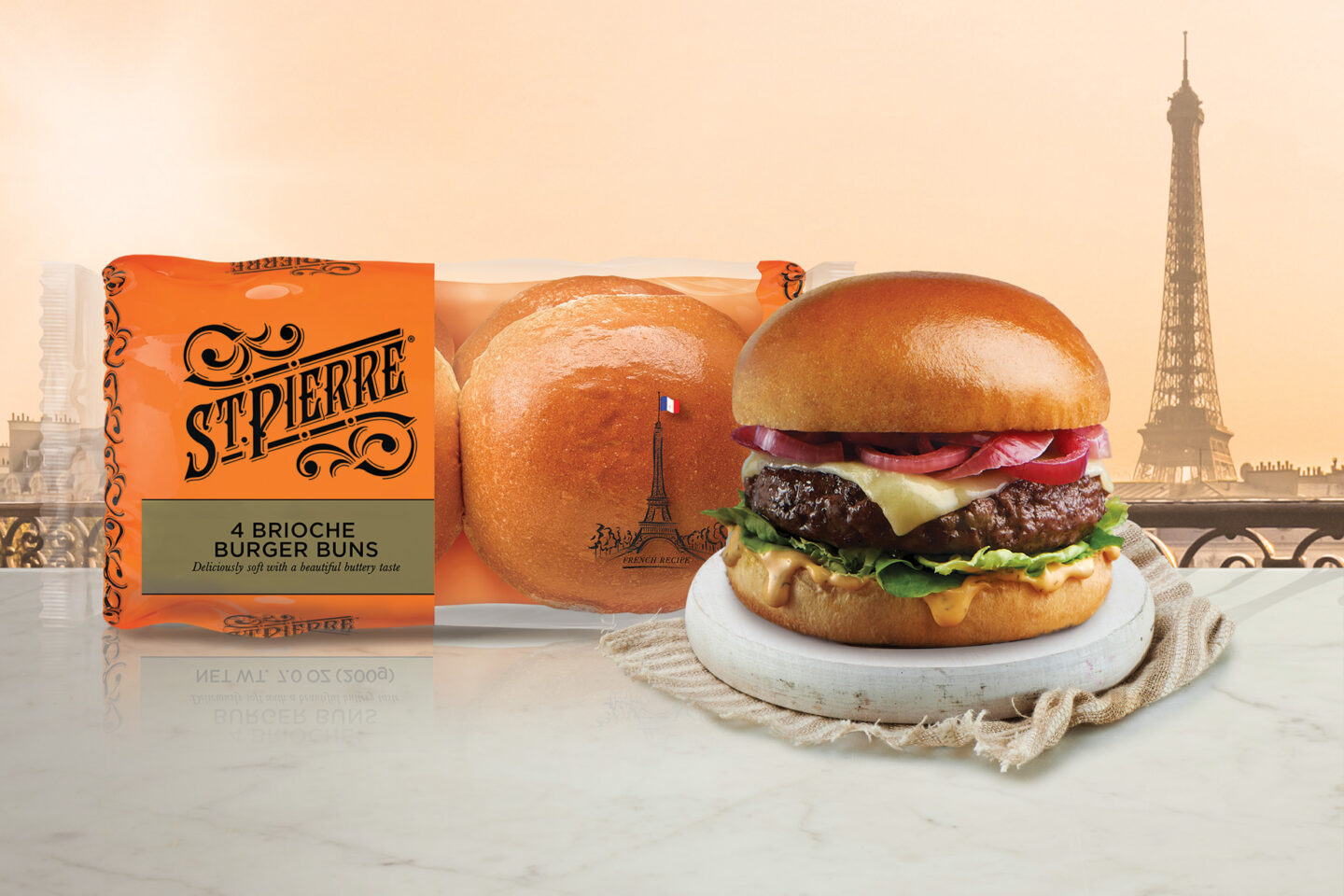 Celebrate National Brioche Day in true St Pierre style.
View National Brioche Day recipes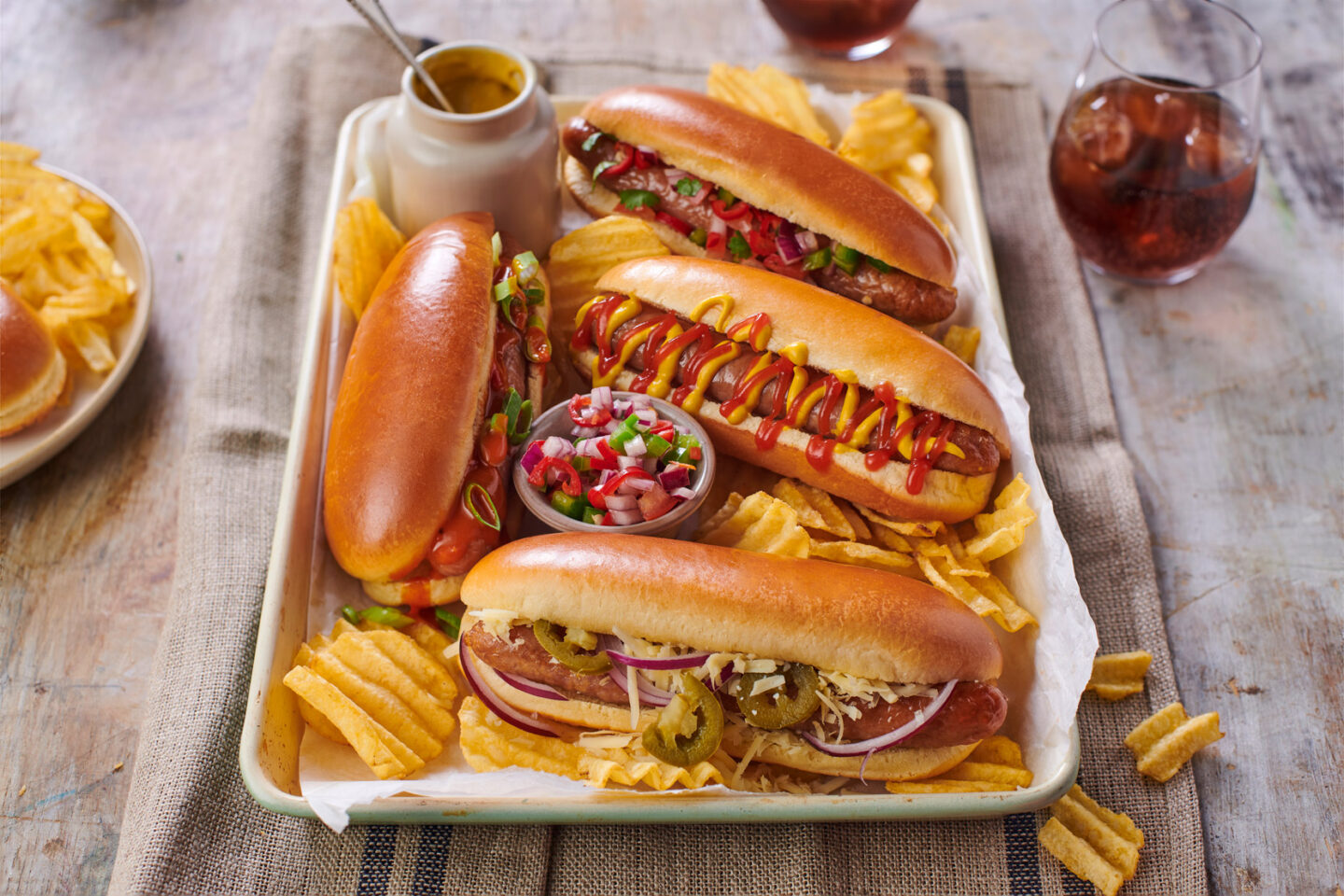 Show your "papa" some love on Father's Day with St Pierre
View Father's Day recipes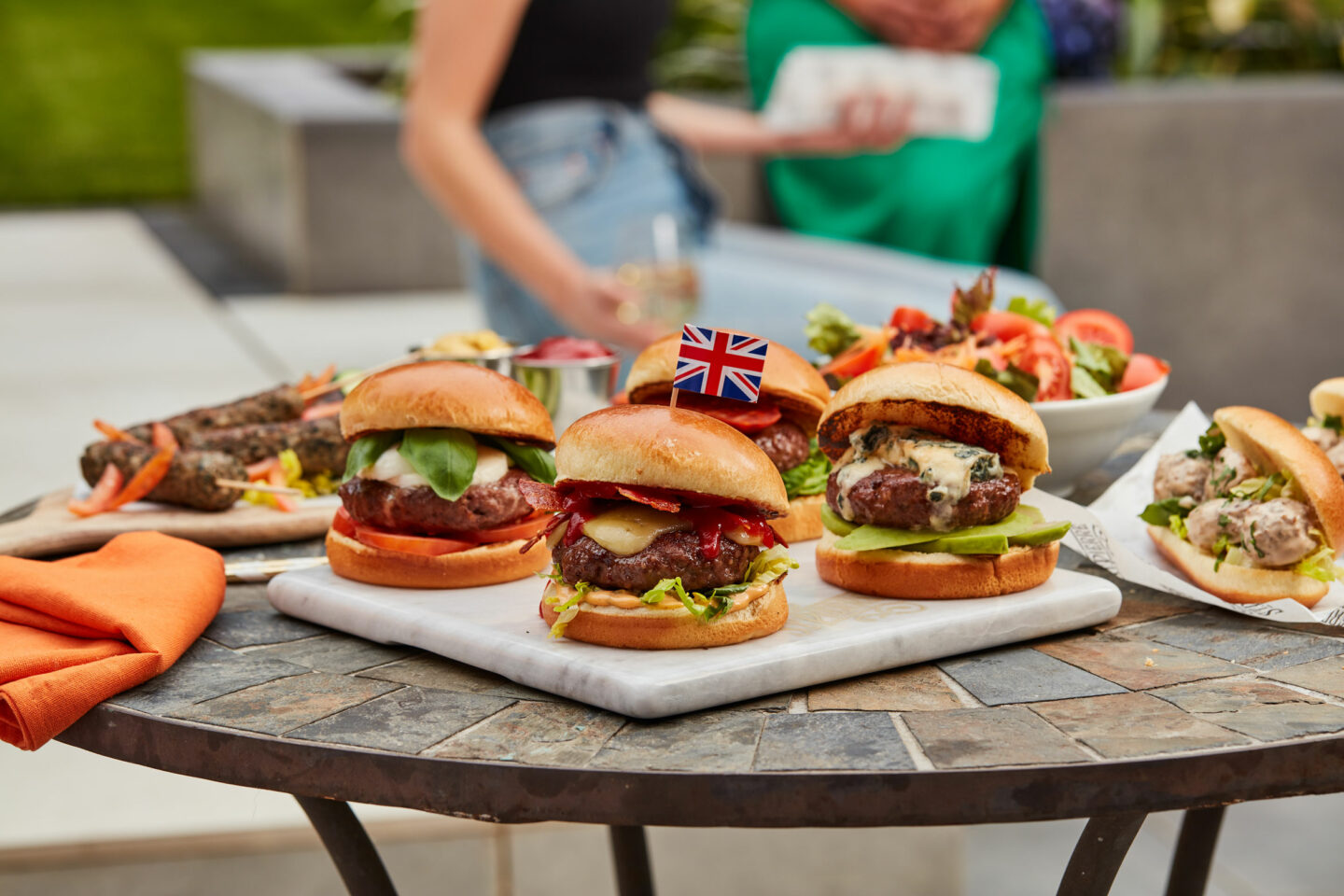 Whatever the occasion, St Pierre has just the thing for you
View recipes
Summer, sun and BBQs – made Magnifique with St Pierre.
View BBQ recipes
Celebrate spooky season the Parisian way with St Pierre.
View Halloween recipes
Bring the magic of fireworks to your table with St Pierre.
View Bonfire Night recipes
Add a touch of Parisian flair to the festive season with St Pierre.
View Christmas recipes
Trick or treat? Sugar, spice and everything nice – we think Halloween is a magnifique occasion. A celebration of all things spooky, with plenty of autumnal classics to eat, pumpkins galore, and the odd bit of Halloween chocolate.
While we know Halloween is famous for trick or treating, bobbing for apples and other traditional treats, at St Pierre we've found a few ways to bring a little French flair to your October feasts.
Let St Pierre help make your Halloween magnifique and scarily delicious with our range of products, found in supermarkets across the UK
Whether you're hosting a party, spending the night in to greet the neighbourhood kids, or fuelling up before heading out trick or treating, let us help with our range of delicious products and recipe inspiration
What to make for Halloween
When it comes to Halloween, recipes tend to be creative, decadent and a little bit spooky. There are lots of autumnal flavours around, and of course it wouldn't be Halloween without a few sweet treats! At St Pierre we, of course, think everything's always better with a pastry or two.
---
Head over to our dedicated page for all of the Halloween brioche recipe inspiration from St Pierre.
Halloween breakfast ideas
Starting the spookiest day of the year off with a hearty breakfast is a must. Try our Brioche Loaf in the morning – whether simply spread with butter and a swipe of jam (bright red, for the Halloween aesthetics, of course) or turned into the most scream-worthy French toast.
For an extra spine-chilling upgrade, make a fantastique French toast special for spooky season – try our Blood Orange French Toast for Halloween breakfast!
Halloween lunch ideas
It's not truly Halloween without a little pumpkin, is it?! Though you can swap the pumpkin for easier to find butternut squash, this Honey Roast Pumpkin Feta Rolls recipe is ideal for a lunch that encapsulates the best of autumn recipes and still has a little Halloween flavour.
St Pierre Brioche Hot Dog Rolls are the perfect size and shape for a lunchtime sandwich – for Halloween feasts, you could call them witches fingers and add a little spooky garnish!
Halloween dinner ideas
For dinner, combine French flavours (in the form of our Brioche Buns), with a classic burger for a real autumnal treat. Turn delicious beef, chicken or veggie burgers into mini pumpkins for a meal that's decadent, delicious and daring – and also perfect for a Halloween photoshoot!
For a Halloween burger recipe, try our Halloween Black Bean Burger, which is picture perfect for spooky special meals, or this Slow Roast Pork and Apple Sauce Baps.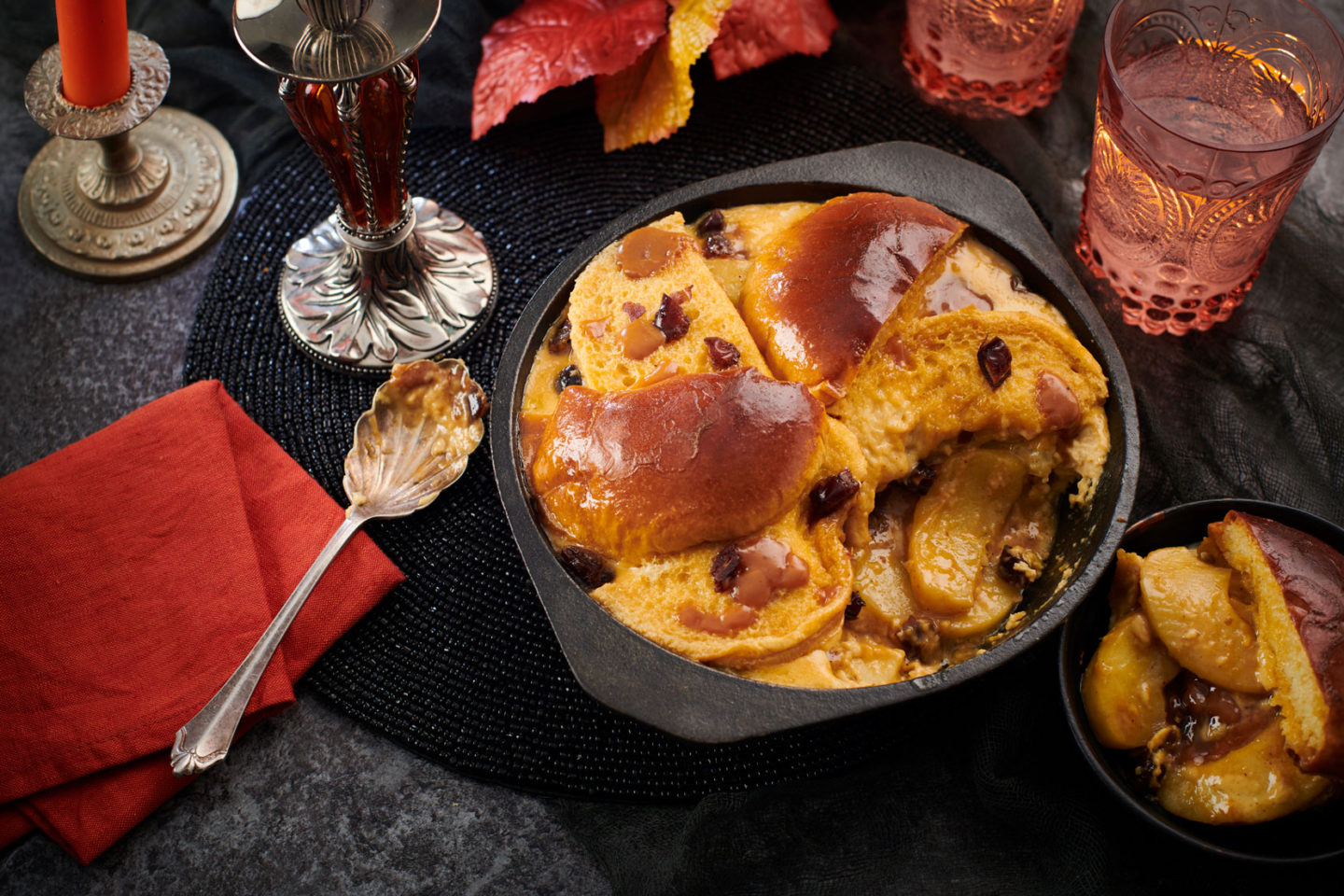 Halloween dessert ideas
A traditional Halloween dessert in the UK would likely be a handful of sweets and chocolate from the trick or treat bag, but to add a French inspired twist to your spooky day, perhaps try something a little more decadent. It's October, it's winter, it's cold outside – and you've probably just returned from a night of roaming the streets in search of the best Halloween trick or treat snacks in the neighbourhood.
So, what could be more fitting than our Sticky Toffee Apple Pudding? It combines the best of British desserts – crisp apples, comforting bread and butter pudding – with an added sprinkle of French flair in the form of beautifully soft brioche bread. Sweet enough to ward all the ghosts, ghouls and goblins away!
Browse the full range of St Pierre Halloween Recipes to get some Halloween food ideas – making sure your October eats are more treat than trick!
Halloween guide by St Pierre
Spooky, scary, sweet. That's how we think Halloween should be celebrated. There's nothing quite like a Halloween party, with costumes and sweet treats galore. St Pierre creates rich, golden and delicious products (found in your local supermarket bakery supermarke), designed to make your All Hallows' Eve feast fantastique.
Inspired by our Parisian range to enjoy a ghoulish rendez-vouz?! Read our Spooky Guide to Paris for the ultimate Halloween holiday idea. If you're ever visiting the City of Light on October 31st, or fancy experiencing the spooky side of the French capital, read our blog post.
Need a little more inspiration for your Halloween celebrations? Find out where to buy St Pierre brioche, croissants, waffles and more.