Inspiration
Valentine's Day Recipes
Be inspired by St Pierre with our Valentine's Day recipes including French toast, a Parisian-inspired burger and a brioche chocolate fondue!
St Pierre brings you recipes to fall in love with this Valentine's Day.
A romantic breakfast in bed, a dinner worth of the most charming Parisian restaurant, and a sweet treat for the one you love. Start your special someone's day with a classic Parisian treat, wow them at dinner with an elaborate burger and finish the night with a treat as sweet as they are.
Keep reading to find mouth-watering recipes that will take your Valentine's Day to Paris. If you're looking for more ideas, why not take a look at our Recipes page for Valentine's Day inspiration.
Valentine's Day Breakfast: Blueberry & Lemon Curd French Toast
Surprise your favourite person by bringing the taste of Paris into their bed. Our recipe for Blueberry and Lemon Curd French Toast is made with our deliciously soft St Pierre Brioche Loaf, fresh blueberries and lemon curd.
Serve it alongside a romantic handwritten card and you'll be sure to get a "merci" and a kiss.
Dinner For Two: Date Night "Steak au Poivre" Burger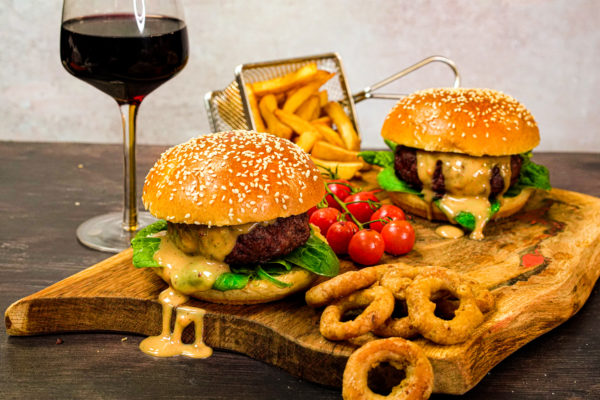 Bring the Parisian gourmet experience into your home with our recipe for a Valentine's dine-in burger – Steak au Poivre. Made with a large beef burger cooked just right, rich French cheese and a peppercorn sauce, it's the perfect way to prove that the way to someone's heart is through their stomach.
Serve it on a bed of watercress and inside a St Pierre Brioche Burger Bun with Sesame Seeds, and share it with the one you love for a romantic dinner this Valentine's Day.
Valentine's Day Dessert: Brioche Chocolate Fondue
As romantic as a Parisian getaway, chocolate fondue is the most indulgent way to celebrate love. Our recipe for Brioche Chocolate Fondue is made with our St Pierre Brioche Hot Dog Rolls cut into bite-sized pieces and pan-fried in butter, your choice of chocolate fondue and if you're feeling fancy, add some fresh strawberries and raspberries for the sweetest way to say "Je t'aime".