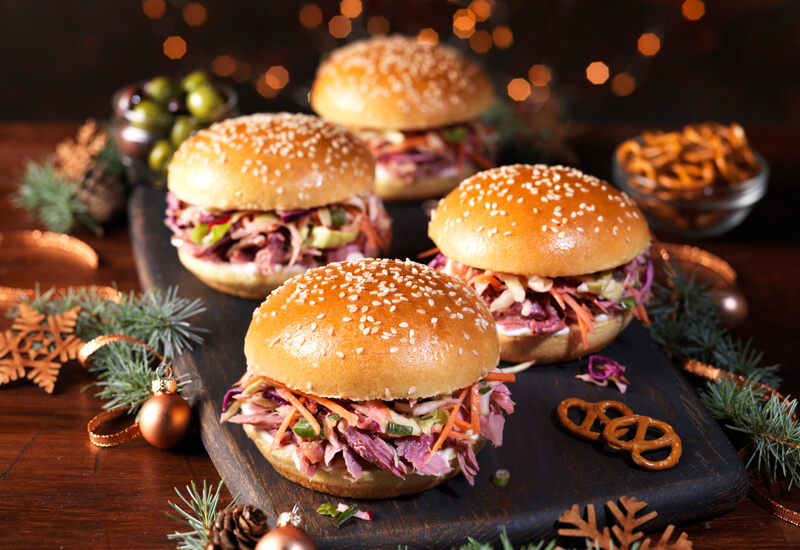 Christmas: Ham Hock & Winter Slaw Brioche Rolls
Using up your leftovers has never been easier – this festive dish is a great Christmas burger alternative for those looking for something different
Prep: 15-20 minutes
Serves: 4
Ingredients
1 pack of St Pierre Brioche Burger Buns with Sesame Seeds (4-pack)
Leftover ham or gammon, shredded
For the winter slaw:
A large handful of red cabbage, roughly chopped
1 large carrot, grated
1 apple, cored and grated
1 tsp lemon juice
1 tsp fresh rosemary, chopped
2 spring onions, finely sliced
2 tbsps mayonnaise
Method
To make the winter slaw, mix the finely chopped or grated fruit and vegetables and mix with the mayonnaise, lemon juice and rosemary. Season with pepper.
Top each St Pierre Brioche Burger Buns with Sesame Seeds with a generous pile of shredded ham or gammon. Then spoon on some winter slaw and put the Brioche Burger Bun lid on top.
4 Seeded Brioche Burger Buns
Lightly sweet and incredibly soft brioche buns, each pre-sliced and ready for a burger of your choice. Enjoy an authentic taste of France, with a delicious plump texture, golden colour and shiny glaze – topped with a handful of tasty sesame seeds for the perfect bun.
View product