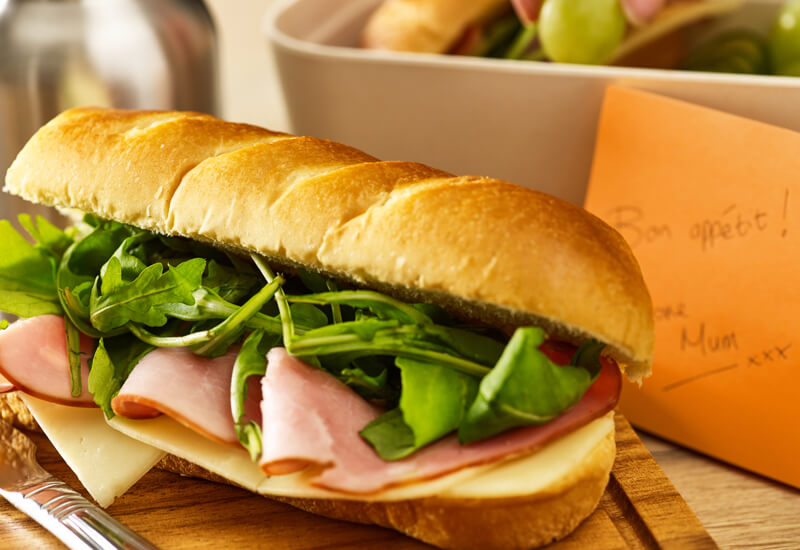 'Jambon Fromage' – Ham And Cheese Sandwich
A French classic for everyday school lunchboxes – this ham, cheese and salad sandwich using St Pierre's Soft Brioche Baguettes makes for a delicious and easy lunch for kids.
Prep: 5 minutes
Serves: 1
Ingredients
For the sandwich:
1 St Pierre Soft Brioche Baguette
1 tbsp softened butter
2 thin cheese slices
1-2 slices of ham, thinly sliced
Handful of lettuce leaves
For the rest of the lunchbox:
Healthy snacks, such as sliced cucumber and green grapes
Method
To make the sandwiches: lightly spread the St Pierre Soft Brioche Baguettes with a small amount of softened butter, then add thin layers of the cheese, ham and lettuce leaves.
Slice the sandwich into halves for growing kids, or into thirds or quarters for smaller children and pack into their lunchbox along with some healthy snacks.
4 Soft Brioche Baguettes
Four large, sub-sized brioche baguettes – each pre-cut at the side for easy filling. With a deliciously soft texture, a gently sweet flavour and a golden finish, these brioche sub rolls are a European staple. Perfectly suited for warm, cold, sweet or savoury fillings, all you have to do is choose your favourite.
View product