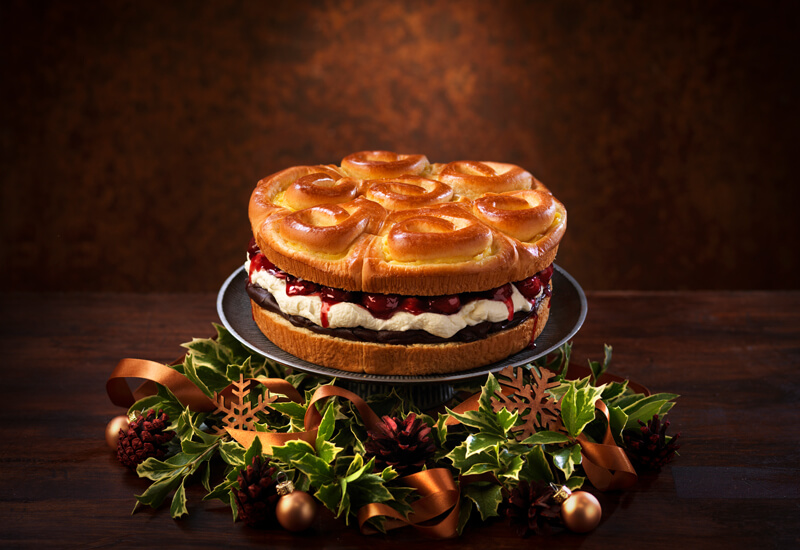 Recipe
Christmas: Black Forest Brioche Gateau
Christmas: Black Forest Brioche Gateau
A classic with a modern brioche twist – make this simple festive showstopper dessert this Christmas
Ingredients
For the sauce
100g dark chocolate
30g butter
30g caster sugar
50ml double cream
2 tbsps cherry liqueur (Kirsch or Brandy)
For the filling
250ml double cream or whipping cream, whipped
1 tin or jar pitted black cherries, drained
3 tbsps cherry jam
1 tsp cherry liqueur
To decorate (optional)
Cocoa powder or chocolate shavings
A handful of fresh or frozen cherries, whole
Method
For the sauce, melt the dark chocolate with the butter, caster sugar and double cream gently in a heat proof bowl – either in a microwave or over a pan of simmering water. Be careful not to burn the chocolate. Then stir in the cherry liqueur and leave to cool until it is a thick and spreadable consistency.
For the filling, whisk the double or whipping cream and sugar into stiff peaks in a separate bowl.
In a third bowl, mix the drained cherries, cherry jam and cherry liqueur.
Carefully slice the St Pierre Tear & Share Brioche in half lengthways.
Spread the bottom layer with the dark chocolate sauce mixture, then add the whipped cream and then the cherry mixture.
Carefully place the top of the sliced St Pierre Tear & Share Brioche on top and then decorate with your chosen toppings such as a dusting of cocoa powder, chocolate shavings or fresh or frozen whole cherries.
Slice, serve and enjoy!
Vanilla Brioche Tear & Share
A soft, feather-light brioche, lightly folded with mouthwatering vanilla custard. Perfect to pull apart and share amongst your family, for a delicious any time treat, or served as a tasty alternative to cake.
View product
Where to buy