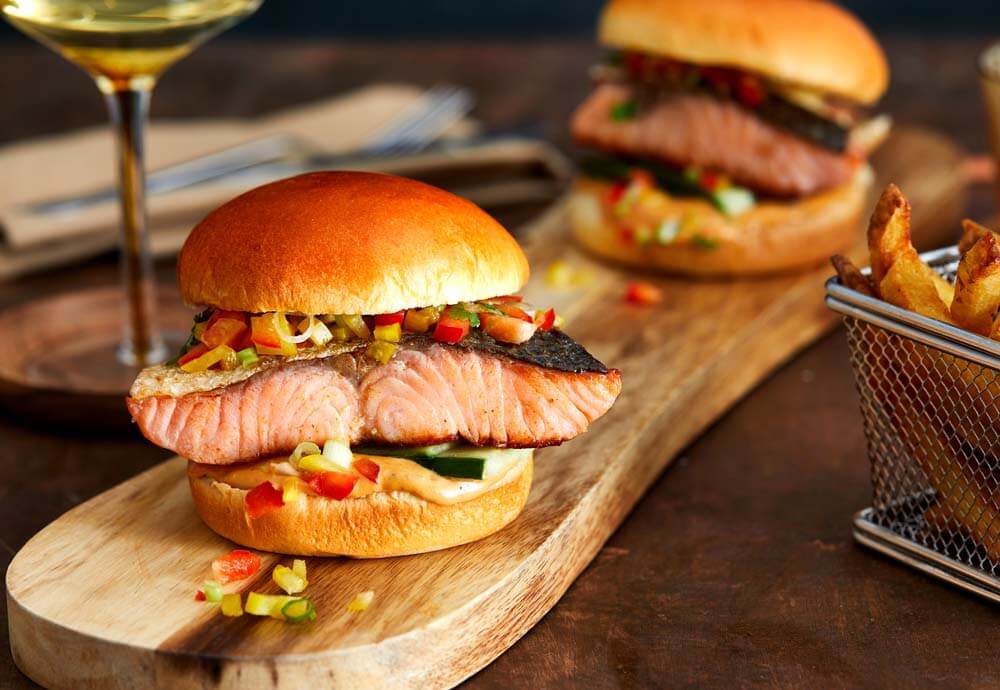 Recipe
Blackened Salmon Burger
Blackened Salmon Burger
A gourmet take on fish and chips in a burger. Our light and buttery-tasting Brioche Burger Buns perfectly complement the fresh and indulgent flavours of blackened salmon and a hint of spice. For a homemade burger worthy of your favourite French restaurant
Ingredients
2 St. Pierre Brioche Burger Buns
2 salmon fillets
1-2 tbsp butter, melted
1-2 tsp Cajun spice mix
1 red pepper, finely diced
1 yellow pepper, finely diced
1 tomato, finely diced
2 spring onions, finely chopped
Ground black pepper
1 lime, juice
Sriracha mayonnaise (or chilli flavoured)
½ cucumber, finely sliced
Method
Brush the salmon fillets with melted butter and liberally coat with the Cajun spice mix.
In a pan on a medium heat, fry the coated salmon fillets for a few minutes on each side, without moving around the pan until cooked.
To make the salsa, put the finely diced yellow and red peppers, tomato and chopped spring onions into a small bowl, then add the ground pepper and lime juice and mix together.
On the base of your St Pierre Brioche Burger Bun spread a thin layer of Sriracha mayonnaise, then add a couple of the finely sliced cucumber pieces on top followed by the pan-fried salmon fillet.
Top the salmon with a generous spoonful of the fresh salsa to finish. Délicieux!
6 Brioche Burger Buns
Pre-sliced, deliciously soft brioche buns, ready to be filled with your favourite burger. With a golden, plump texture to perfectly hold your filling together and a shiny glaze on top, this gently sweet brioche bun tastes great with every type of ingredient.
View product
Where to buy