Our brioche burger bun recipe has been tailored to produce the ideal texture for supporting your favourite toppings and fillings. A beautifully shiny glaze on top looks just as good as the brioche bun itself tastes – simply magnifique.
Are brioche buns good for burgers?
We might be a little bit biased. However, we think there aren't many things better than the burger on brioche bun combination. The rich, slightly sweet dough and the soft yet satisfying texture makes for a beautiful burger every time.
What is a brioche burger bun?
Brioche dough is known as an enriched bread dough. It contains lots of eggs, milk and butter (or vegetable fat). It's this combination of high quality ingredients that creates the classic brioche taste. It's slightly sweet, satisfyingly rich and pleasingly soft. You can pick out a good brioche burger bun from the top. The best brioche has a shiny golden top thanks to its enriched bake, which looks almost as good as it tastes.
Brioche burger buns are classics the world over. This is because they taste fantastic, bring a touch of French flair to any dish, and pair with almost any ingredient you can think of. That's why 'brioche bun burger' is a staple around the world, and why you should consider adding a pack of our brioche rolls to your next shopping list – whether for burger night or a BBQ.
Do you toast brioche buns for burgers?
Grilling or toasting brioche burger buns adds a pleasingly crisp texture and golden colour that enhances any recipe. Pop them under the grill or into a pan for a minute or two to warm them through. Toasting them also firms up the crust layer, allowing you to slather them in your favourite condiments – ketchup, relish, mustard, burger sauce, mayonnaise…
Where to buy brioche burger buns?
St Pierre products are stocked in supermarkets and food shops across the UK. Find out where to buy brioche buns for burgers.
What to put in a brioche bun?
Brioche buns are the ideal vehicle for so many ingredients. You can use brioche to add a little French flair to any meal. Brioche buns are well known as a magnificent option for burgers, from cheeseburgers to veggie burgers (and even Chocolate Burgers…)
Discover the rest of the St Pierre product range for even more délicieux recipe ideas.
---
Hot Honey Buttermilk Chicken Burgers
Ingredients
4 St Pierre Brioche Burger Buns
8 Buttermilk Chicken mini fillets
4 tbsp honey
½ tsp chilli flakes (or adjust to taste)
4 tbsp mayonnaise
½ tsp coarse ground black pepper
Shredded iceberg lettuce
Gherkins, sliced
Steps
Cook the chicken according to the pack instructions
Meanwhile warm the honey and chilli flakes gently in a small pan then turn off the heat and set aside to cool a little
Mix the mayo with the black pepper and lightly toast the buns
Spread a little mayo over the base of the buns then add some lettuce. Add two mini fillets to each bun then drizzle the hot honey over the chicken
Add a few sliced gherkins and a little extra mayo if you like then pop on the lids
---
Chicken, Leek and Truffle Burger
You could also make this with leftover cooked chicken. Just saute all the leeks and add a little more stock to the sauce if needed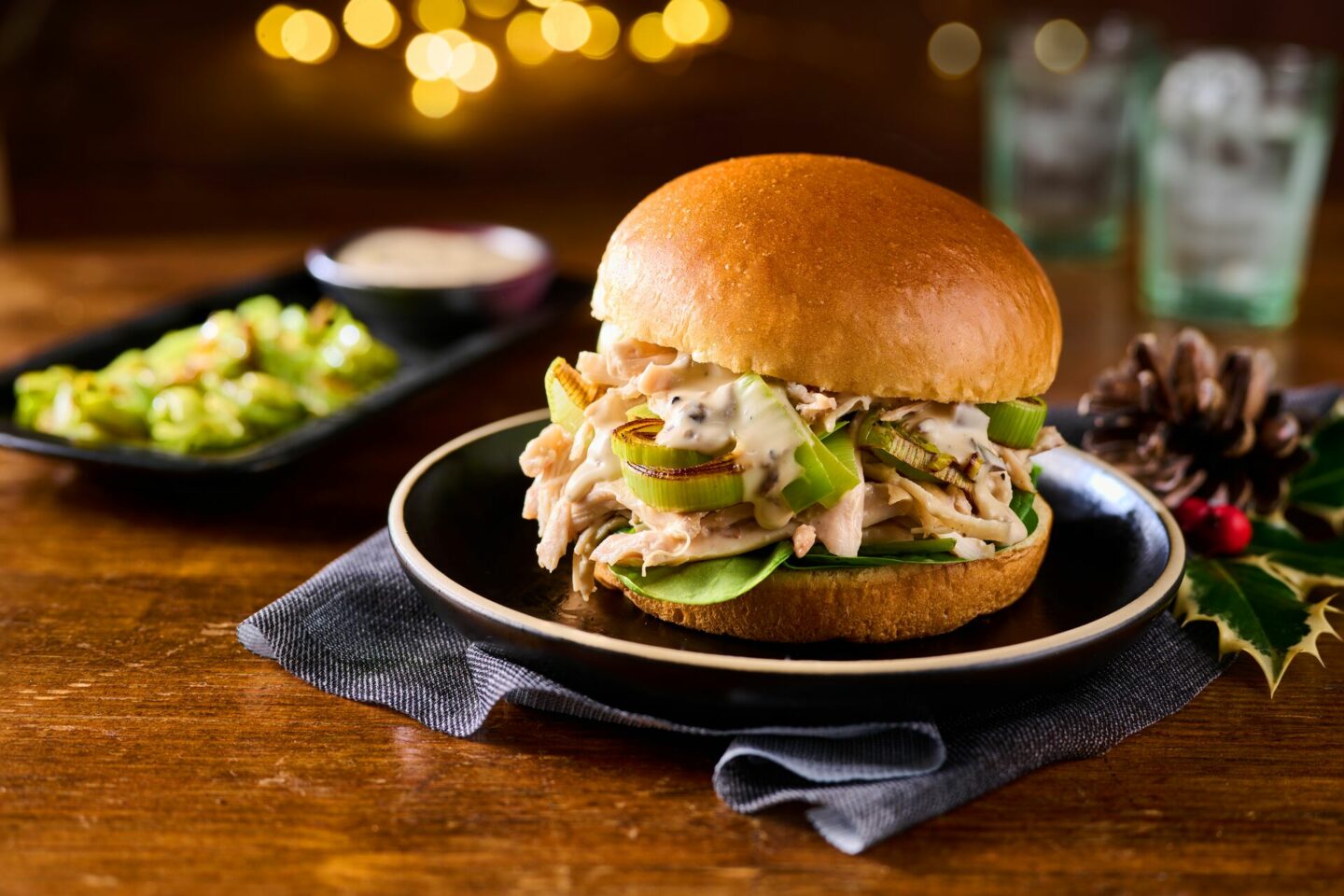 Ingredients
4 St Pierre Brioche Burger Buns
1-2 tsp dried porcini mushroom pieces
3 skinless and boneless chicken thighs
1 leek, washed and sliced
1-2 tsp olive oil
Pinch sea salt and black pepper
Drizzle truffle oil
3 tbsp butter
2 tbsp plain flour
100ml milk
50ml single cream
1 tbsp chopped parsley
Good pinch black pepper
Baby spinach leaves
Steps
Preheat the oven to 170°C fan/190°C conventional/gas 5
Put the dried porcini mushrooms into a heatproof bowl or jug and pour over just enough boiling water to cover them. Place a plate over the top and allow them to re-hydrate while you cook the chicken
Place the chicken thighs in a small ovenproof dish with half of the sliced leek. Drizzle over a little olive oil and season with salt and pepper.
Roast in the oven for about 40-45 minutes or until cooked through. Baste with the juices a few times during cooking and cover the dish half way through if they start to dry out
When the chicken is cooked, lift out the chicken then pour the cooking juices and leeks through a sieve into a jug or bowl
Use two forks to shred the chicken. Drizzle the chicken with a little truffle oil then set aside and keep warm.
Drain the re-hydrated mushrooms through a fine sieve into another jug or bowl (keep the liquid). Finely chop the mushrooms
Now make the sauce. Melt 2 tablespoons of the butter in a saucepan then add the flour and stir in thoroughly to make a paste. Cook over a low heat for a minute stirring all the time.
Gradually add 100ml milk, stirring in between each addition, then stir in about 100ml reserved chicken juices and the liquid from the mushrooms. Increase the heat slightly and stir for a minute or two until the sauce has thickened
Add the cream, parsley, chopped mushrooms and a little black pepper to the sauce and heat through. Stir a few spoonfuls of the sauce through the shredded chicken and keep the rest warm
In a small frying pan, saute the leeks for a minute or two in the remaining butter
Open the brioche burger buns and add some spinach leaves to the base of each one. Add a generous pile of shredded chicken then some sauteed leeks. Pour over some mushroom sauce then pop on the lids
You can fill a brioche burger bun with any filling to make a delicious sandwich. From classic lunchtime sandwich recipes like BLT, chicken salad, egg mayo or roasted veg and hummus to a simple grilled cheese. Brioche breakfast sandwiches are fantastic in a burger bun. We also think our burger buns are great in recipes for using leftovers. Whatever you choose to do with them, find your best way to enjoy brioche burger buns with our range of brioche recipe ideas.
---
Add a little French flair to your next burger with the St Pierre range of brioche items and our full range of products.