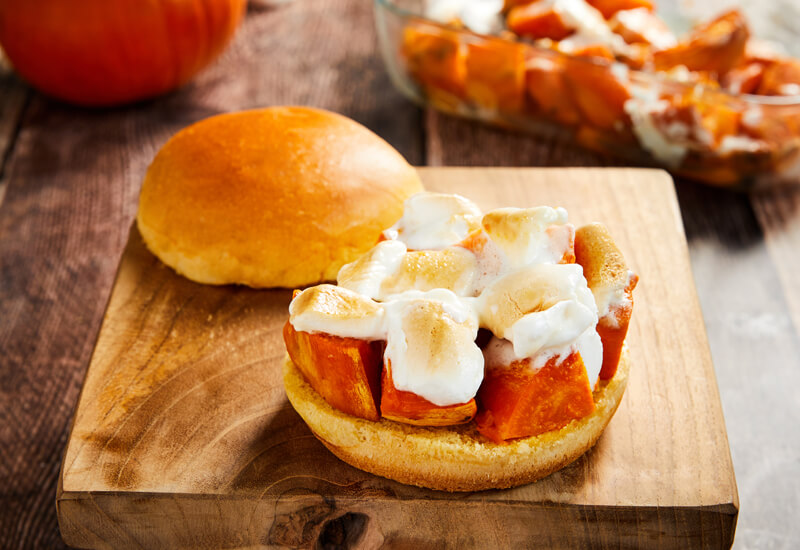 Recipe
Candied Sweet Potato Burgers
Candied Sweet Potato Burgers
These sweet burgers are a great Halloween dessert with gooey toasted marshmallows and warming autumnal flavours
Ingredients
1 pack St Pierre Brioche Burger Buns (6-pack)
3 sweet potatoes, roughly chopped
4 tbsps butter
1 tsp cinnamon
1 tsp nutmeg
1 tsp ginger
1 tbsp maple syrup
4 tbsps of brown sugar
A handful of big marshmallows
Method
Preheat your oven to 200°C / 180°C fan / Gas Mark 6.
Cut your sweet potatoes into 3cm chunks and place them into an ovenproof baking dish.
In a pan, melt your butter and add your cinnamon, nutmeg, ginger, sugar and maple syrup – stir until all the ingredients have combined.
Pour the mixture from the pan over your sweet potato chunks coating all the pieces.
Cover the baking dish in foil and put it in the oven for roughly 25 minutes.
During the last 2-3 mins, remove the foil from the baking dish and place a handful of marshmallows on the top of the sweet potatoes to cook.
Once fully cooked, and the marshmallows have charred slightly around the edges, remove from the oven and set on a cooling rack for a minute or two.
Using a serving spoon, layer the sweet potato on to your St Pierre Brioche Burger Buns and enjoy with a drizzle of maple syrup!
6 Brioche Burger Buns
Pre-sliced, deliciously soft brioche buns, ready to be filled with your favourite burger. With a golden, plump texture to perfectly hold your filling together and a shiny glaze on top, this gently sweet brioche bun tastes great with every type of ingredient.
View product
Where to buy