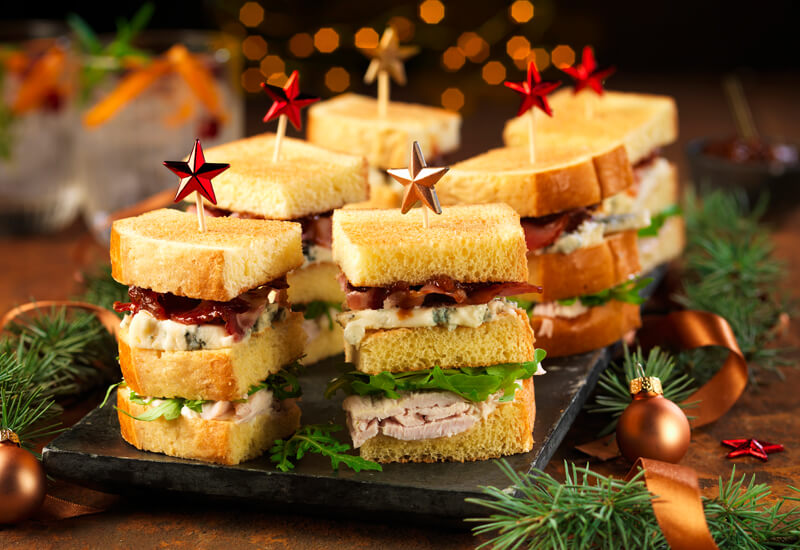 Recipe
Christmas: Leftovers Sandwich Stackers
Christmas: Leftovers Sandwich Stackers
Quick bites or celebratory treats – no matter how you serve them, these stackers will tickle your festive taste buds
Ingredients
6 slices of St Pierre Brioche Sliced Loaf
Leftover roast Turkey, sliced
A handful of rocket leaves
6 slices pancetta or streaky bacon, cooked
Dolcelatte or Cambozola cheese, thinly sliced
2 tbsps spiced chutney
Mayonnaise
Method
Lightly toast the six slices of Brioche Loaf on both sides.
Spread two slices with a thin layer of mayonnaise, then add the sliced turkey and some rocket leaves to each one.
Add a second slice of toasted Brioche Loaf on top of each one, followed by the cooked pancetta or bacon, blue cheese and a couple of spoonfuls of spiced chutney.
Add the last slice of toasted Brioche Loaf on the top of each sandwich and then carefully sliced each one into quarters, securing it with a festive wooden skewer to hold each stacker in place.
Brioche Loaf
Our irresistible pre-sliced Brioche Loaf. With a super-soft texture and a gentle sweet taste, it's perfect for all meal times or as a simple, delicious snack.
View product
Where to buy