Recipe
MOB Kitchen & St Pierre Custard 'Tart' Buns
MOB Kitchen & St Pierre Custard 'Tart' Buns
Prep: 20 Minutes
Serves: 2
A perfect way to add Parisian flair to your sweet treat anytime of the day
St Pierre Brioche Burger Buns are so versatile, they can be used for sweet and savoury meals, at any time of the day. That's why we teamed up with MOB Kitchen to show you a different way to use our Brioche Burger Buns with our take on the custard toast trend and adding a touch of Parisian flair to it.
These custard 'tart' brioche buns couldn't be easier to make. Simply use a teaspoon to make an indent in the insides of St Pierre Burger Buns, fill with a custard mixture and bake before topping with your favourite selection of berries.
The 'tarts' are so versatile you can change up the toppings to whatever you fancy. Add some jam underneath the custard for that extra fruity flavour or drizzle chocolate on top for an indulgent treat.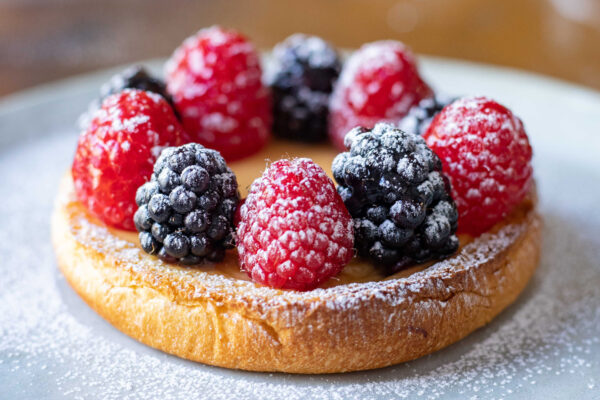 Photo credit: MOB Kitchen
MOB Kitchen Instagram Live
Some of you may have seen that MOB Kitchen hosted a live Instagram cookalong in February showing you how to create these delicious 'tarts'. In case you missed it, or want to watch it again, check out the cook-a-long below:
If you need more recipe inspiration for our Brioche Burger Buns, take a look at our previous collaboration with MOB Kitchen, where we created three delicious recipes, perfect for breakfast, dinner and dessert.
Ingredients
2 St Pierre Brioche Burger Buns
3 tbsp yoghurt
2 tbsp maple syrup
1 egg
½ tsp vanilla extract
150g selection of your favourite berries
2 tbsp fruit jam
Method
Preheat the oven to 180°C / 160°C fan / Gas Mark 4
Whisk together the yoghurt, maple syrup, egg and vanilla
Take both halves of the St Pierre Burger Buns and using a teaspoon press down the insides to make an indent
Pour the custard mixture into the Brioche Burger Buns and pop into the oven for 8 minutes
Once the 'tarts' are cooked, remove from the oven and allow to cool.
Decorate with your favourite berries, using as many or as few as you like
Mix the jam with one tablespoon of water and brush this over the fruit so it looks glossy
Add a sprinkling of icing sugar and enjoy!
Bon appétit!

4 Brioche Burger Buns
Give your burger the luxury treatment. St Pierre Brioche Burger Buns (also available in a pack of 6 buns or as Seeded Burger Buns) are ready sliced so you can start enjoying them even sooner. Deliciously decadent, gorgeously golden and sumptuously soft, try our brioche buns to upgrade your next burger night.
View product
Where to buy

6 Brioche Buns
Pre-sliced, deliciously soft brioche buns, ready to be filled with your favourite burger, our St Pierre Brioche Buns are made for you to take your time. Golden like a Parisian sunset with a plump texture to perfectly hold your filling together and a shiny glaze on top, this gently sweet brioche bun tastes great with every type of ingredient to take your meals to Paris.
View product
Where to buy