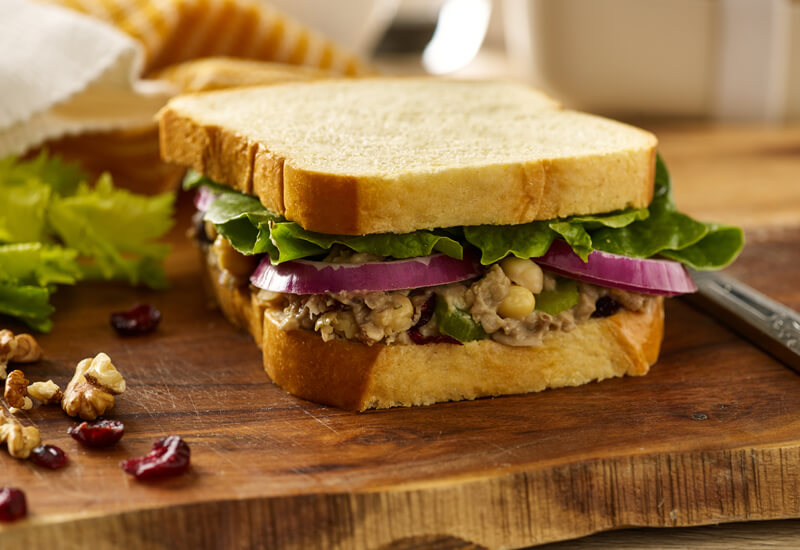 Recipe
Posh Veggie Sandwich – Chickpea, Walnut And Cranberry
Posh Veggie Sandwich – Chickpea, Walnut And Cranberry
Prep: 10 minutes
Serves: Up to 4
To make for work or to enjoy at home
For those looking for a more premium veggie sandwich to make for work or to enjoy at home, this délicieux posh recipe includes fresh, nutty flavours that pair perfectly with our soft and buttery tasting St Pierre Sliced Brioche Loaf.
Ingredients
8 slices St Pierre Brioche Loaf
400g can tinned chickpeas, drained and rinsed
80g walnuts, chopped
2 celery stalks, finely diced
2 spring onions, finely sliced
20g dried cranberries
100g mayonnaise
2 tsp Dijon mustard
1 tsp English mustard
1/8 tsp dried dill (optional)
Black pepper
Romaine or iceberg lettuce
Half red onion, thinly sliced
Method
Set aside a small handful of the drained and rinsed chickpeas and blend the rest in a food processor with the chopped walnuts, celery and spring onion until roughly blended
Transfer the mixture to a bowl and then mix in the dried cranberries, mayonnaise, Dijon mustard, English mustard, dill and pepper. Season to taste
Spoon the mixture onto one slice of the St Pierre Sliced Brioche Loaf, and then add the lettuce and red onion as desired. And repeat to make second sandwich
Top with the second brioche slice and cut in half
Bon appétit!
Brioche Loaf
Our irresistible pre-sliced Brioche Loaf. With a super-soft texture and a gentle sweet taste, it's perfect for all meal times or as a simple, delicious snack.
View product
Where to buy