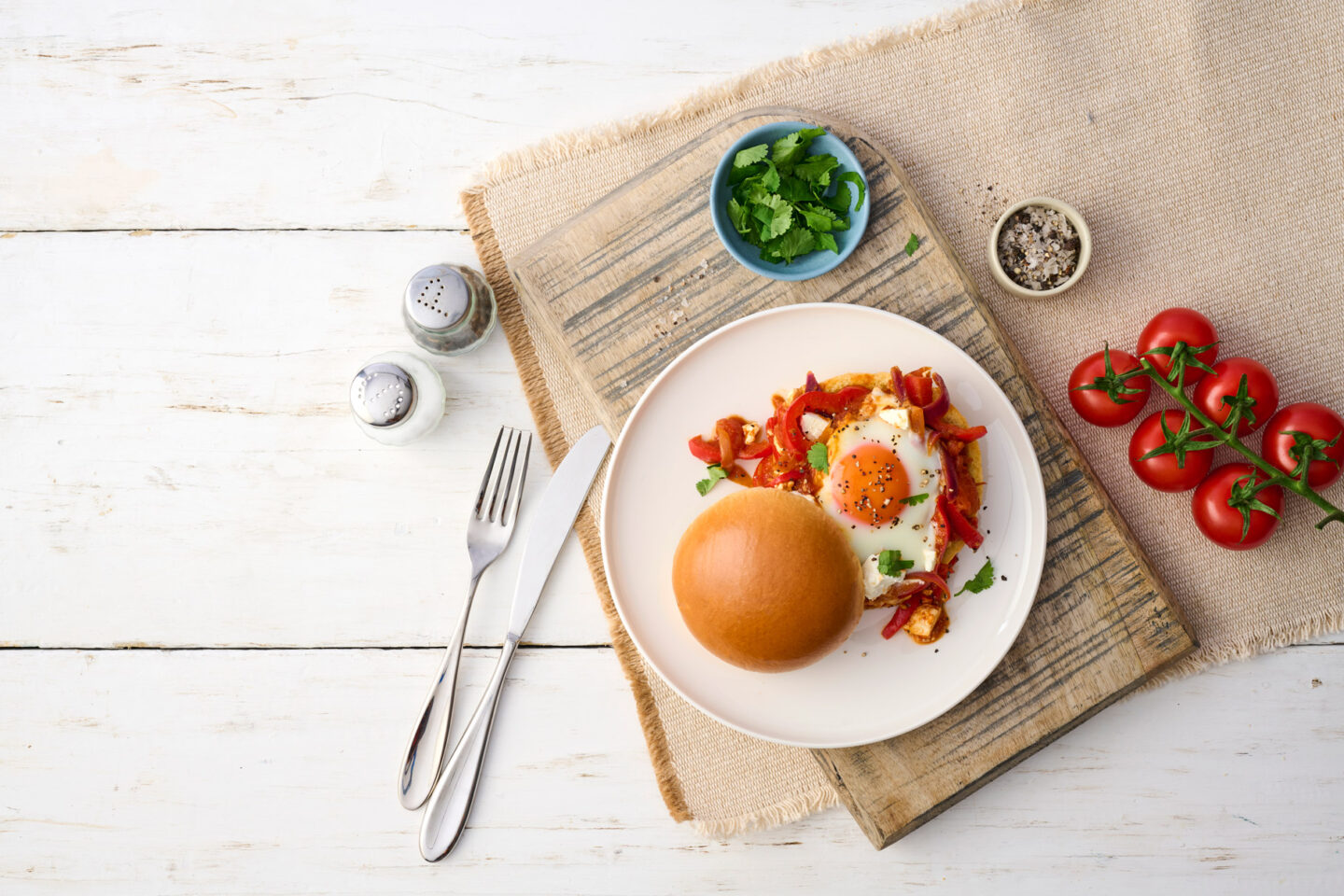 Recipe
Shakshuka Eggs Brioche Roll
Shakshuka Eggs Brioche Roll
Combining the delicious spices of Shakshuka with the sweetness of St Pierre Brioche Burger Buns.
Shakshuka is originally said to have come from North Africa, although now it is a very popular dish in the Middle East. The base of a Shakshuka is warmly spiced, saucy tomatoes, often with peppers and onions, and eggs cracked right into the dish so that they cook within the sauce. There is no one specific recipe for Shakshuka and a variety of spices, vegetables and meats are used across different countries and cultures.
Whilst not specifically a breakfast meal in the Middle East and North Africa, in Western countries Shakshuka is often seen as a breakfast or brunch dish, probably due to the inclusion of eggs. Normally served with a warm pitta, challah or naan, St Pierre have added a little French twist to this traditional dish and served with a toasted Brioche Burger Bun.
Ingredients
2 St Pierre Brioche Burger Buns
1 tbsp olive oil
250g fresh plum tomatoes
1 red pepper
1 red onion
1 tbsp tomato puree
1 sliced red chilli (seeds removed)
1 tsp smoked paprika
1 tsp cumin
2 eggs
50g feta cheese
Seasoning
Fresh coriander – chopped
Method
Fry the red onion in the olive oil for 5 minutes before adding the plum tomatoes, red peppers and chilli and fry for a further 5 minutes
Add in the spices and seasoning and stir, then add the tomato puree, a splash of water and cook over a low heat for 30 minutes
After 30 minutes create two wells in the sauce and crack the eggs in
Pop the lid on the frying pan and leave until the eggs are just cooked
Whilst the eggs are cooking, lightly grill the burger buns until they are golden brown
To serve, add the tomato, red pepper and onion mix to the bottom half of the burger bun and top with one of the eggs
Crumble with some feta and garnish with some coriander
This warming dish will have you ready for the day ahead. Bon appétit!

4 Brioche Burger Buns
Give your burger the luxury treatment. St Pierre Brioche Burger Buns (also available in a pack of 6 buns or as Seeded Burger Buns) are ready sliced so you can start enjoying them even sooner. Deliciously decadent, gorgeously golden and sumptuously soft, try our brioche buns to upgrade your next burger night.
View product
Where to buy

6 Brioche Buns
Pre-sliced, deliciously soft brioche buns, ready to be filled with your favourite burger, our St Pierre Brioche Buns are made for you to take your time. Golden like a Parisian sunset with a plump texture to perfectly hold your filling together and a shiny glaze on top, this gently sweet brioche bun tastes great with every type of ingredient to take your meals to Paris.
View product
Where to buy