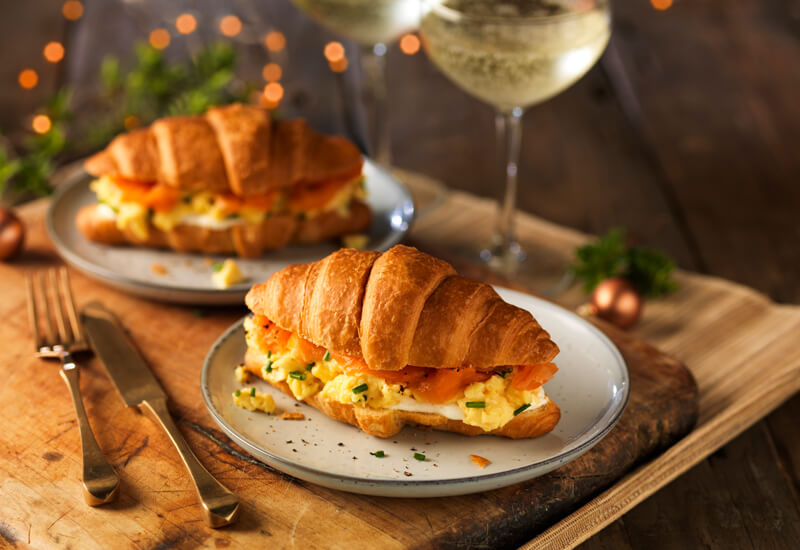 Recipe
Christmas Scrambled Egg & Smoked Salmon Croissants
Christmas Scrambled Egg & Smoked Salmon Croissants
If you're looking for a delicious dish to serve up as a special treat on Christmas Day morning, then look no further!
Ingredients
4 St Pierre All Butter Croissants
6 eggs
50ml milk
Large knob of butter
100g smoked salmon
Fresh chives, chopped
4 tsp cream cheese
Black pepper
Method
Warm the St Pierre All Butter Croissants as per the instructions on the pack
Meanwhile, make the scrambled egg by whisking the eggs with milk and season with pepper
Heat the eggs through in a non-stick pan on a low heat with lots of butter, stir occasionally until gently but not overcooked and stir in the chopped fresh chives at the end
Slice the warm All Butter Croissants in half, then spread cream cheese on the bottom half of the croissant. Add the fluffy scrambled egg and a layer of smoked salmon and finish with a few more chives before placing the top of the croissant on
Serve with your celebratory drink of choice
Bon appétit!
6 Croissants
The staple of any Parisian bakery, our classic croissants are produced in France with an authentic soft texture and a delicious taste. Individually wrapped to maintain their freshness, they're great inside lunch boxes or warmed up as a snack.
View product
Where to buy