Announcement
Toppings To Try With Our New Brioche Soft Bagels!
Eiffel Tower meets the Empire State with our new golden, soft and lightly sweet brioche bagels, ready to fill with your favourite bagel toppings.
Taking a New York classic and adding a French twist to it,  St Pierre  is delighted to introduce our newest product – Brioche Soft Bagels! Golden, soft and lightly sweet, these Brioche Bagels are a magnifique way of combining two breakfast classics together.
To give you some inspiration on how to serve these new Brioche Soft Bagels we have put together a few ideas for bagel toppings that we think you will love.
If you want to pick up a pack of our Brioche Soft Bagels you will find them on Ocado, or use our Where to Buy page to find a store near you.
Bagel Toppings: Smoked Salmon & Cream Cheese
A classic flavour pairing for a bagel, so why not try it on a Brioche Soft Bagel? Smothering each side of the bagel in cream cheese, layering on the smoked salmon and try adding a little crunch with some cucumber and red onion.
Bagel Toppings: Scrambled Egg & Avocado
Inspired by Egg Slut sandwiches, this bagel is filled with soft scrambled eggs, chives, avocado, cheese and caramelised onions. Delicious for any time of the day.
Breakfast Bagel
Start your day off with some delicious breakfast flavours. Spread some smashed avocado onto the bottom of the bagel, before topping with some crispy bacon, a fried egg and some spinach. This will definitely kick start your day in the best way.
Ideas for Savoury Bagel Toppings
Bagels don't have to just be for breakfast and brunch, they can be enjoyed at any time of the day. So we have come up with some simple but delicious lunchtime bagel ideas for you to try:
🥯 Pizza Bagel
Spread tomato puree onto the bagel before sprinkling on some grated cheese and whatever toppings you fancy. We've opted for a few olives and some basil.
🥯Ham Salad Bagel
Cream cheese with sliced ham, cherry tomatoes and crisp cucumber.
🥯Salami & Feta Bagel
Slices of salami with some crisp red onion, chopped tomatoes and crumbled feta.
🥯Pastrami & Mustard Bagel
English mustard, slices of Swiss cheese, pastrami and gherkins on top.
Bagel Toppings: Fruit n Nut Spread
Start your weekend off with a Parisian treat and make yourself this magnifique fruit and nut spread. With a selection of nutty spreads, like peanut butter and Nutella, your favourite fruits, some crushed nuts for a little extra crunch and of course you can't forget some golden toasted Brioche Soft Bagels. If you really want to make it special, why not try adding some Brioche Waffles and create a brioche breakfast platter that no one will be able to resist.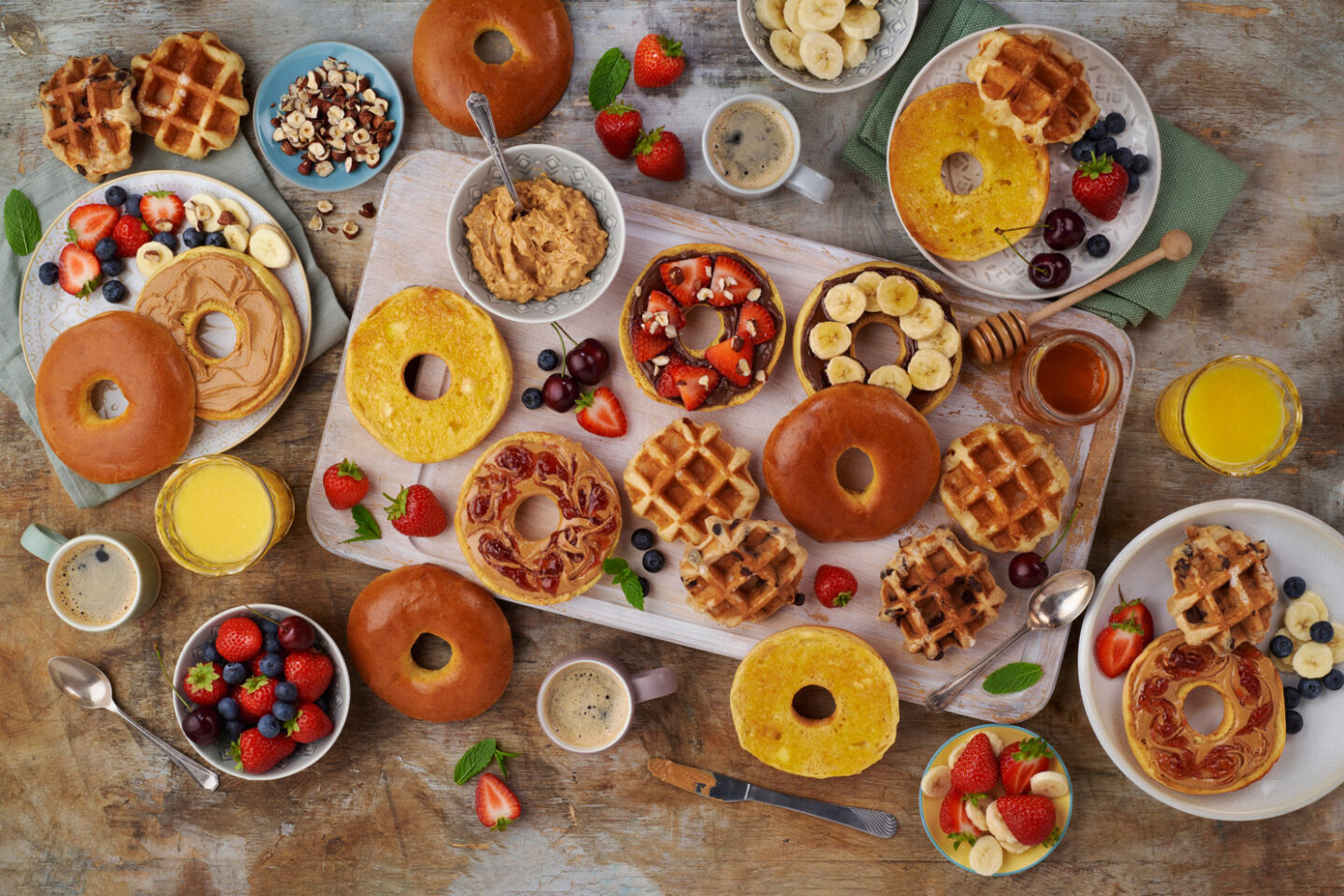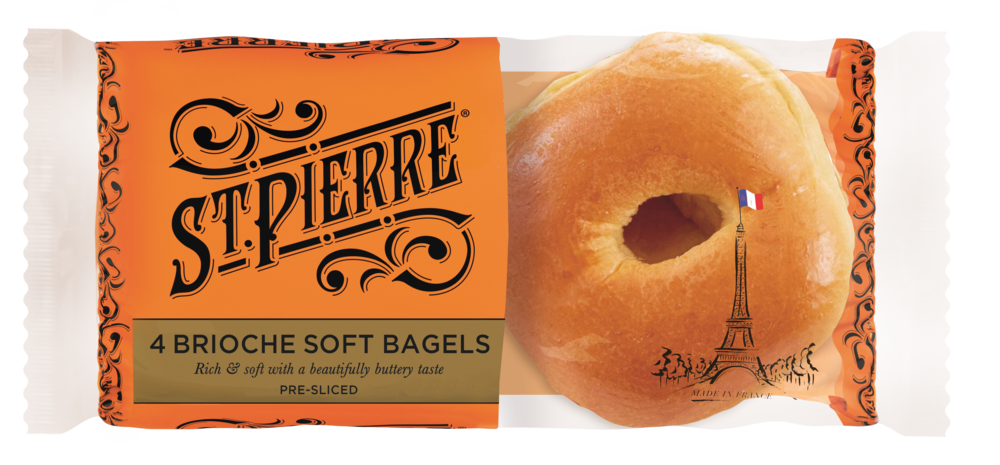 4 Brioche Soft Bagels
Try our take on a New York classic with a St Pierre Parisian flair. Our Brioche Bagels are lightly sweet, golden and soft – ideal for a decadent lunch or breakfast on the go.
This French-inspired twist on the classic is delicious any time of the day. The ideal canvas for your favourite toppings – from smoked salmon with cream cheese to a classic BLT sandwich – with our bagels every meal is magnifique.
View product
Where to buy