Blog
Christmas Inspiration from St Pierre: Joyeux Noël
Celebrate with festive recipes, hosting tips and many more surprises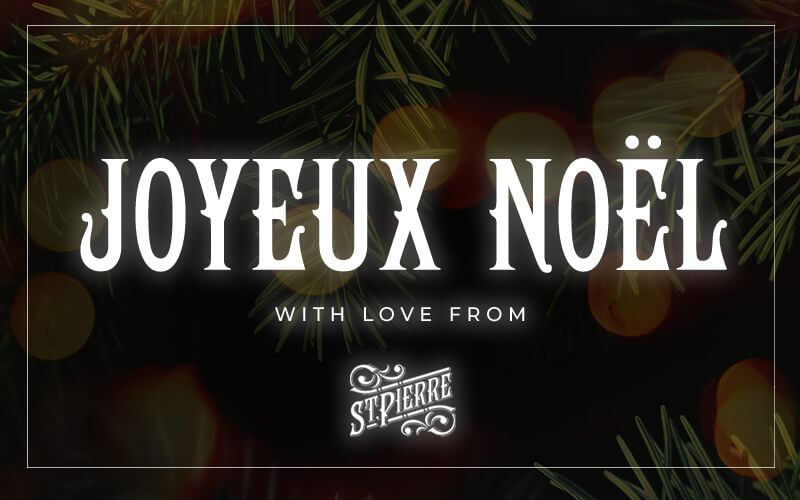 Discover St Pierre's Christmas inspiration ahead of the festive season, including recipe ideas, hosting and decorating ideas and simple ways to add a Parisian touch to your celebrations.
The nights are getting longer, there's anticipation in the air. Soon it will be time to wish each other a "Joyeux Noël!" or Merry Christmas.
At St Pierre, our favourite way to celebrate the festive season is to spend time at home and surprise our loved ones with our favourite Christmas dishes, decorate our homes and spend some quality time with each other.
So we thought we would share these ideas with you to make your Christmas magnifique. Take a look below to see what we have in store for you.
Christmas inspiration
Over the coming weeks, we'll be sharing our own Christmas inspiration with you and you'll be able to find all of these festive ideas on our dedicated Christmas page.
Our inspiration includes unique but simple St Pierre recipes for you to try at home – from sweet treats to showstoppers, as well as some Christmas favourites with a Parisian twist. We'll have ideas for you for all meal occasions – breakfast, lunch and dinner, and everything else in between.
You'll be able to find these on the Recipes page under the Seasonal tab.
We'll also be sharing plenty of ideas over on our Blog, including our best hosting tips, decoration ideas for you to try at home, and many more surprises for you.  For you to add a bit of Parisian flair to your Christmas and celebrate in style.
We'll also be announcing a St Pierre Christmas competition over the coming weeks on our social channels, so keep your eyes peeled to be in with a chance of winning our exquisite festive prize!
Keep your eyes peeled on our blog and follow us on Instagram and Facebook to find out what goodies we have in our sleigh for you this festive season!