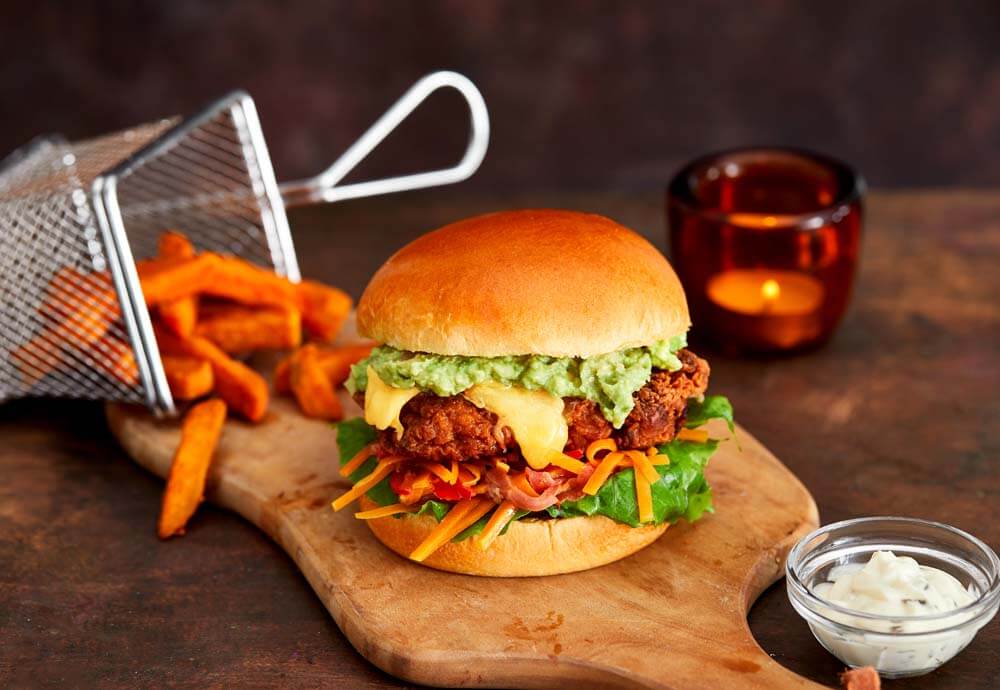 Recipe
Fried Chicken Burger With Pumpkin Slaw
Fried Chicken Burger With Pumpkin Slaw
Nothing warms up a chilly autumn day like fried chicken. This burger is a perfect choice for chicken burger fans looking for an indulgent recipe, with an autumnal twist. Featuring a pumpkin slaw, fresh guacamole, creamy melted cheese and salad, it's truly "délicieux"
Ingredients
For the burger
2 St. Pierre Brioche Burger Bun
1 -2 tbsp oil
2 chicken breasts
2 slices Monterey Jack cheese
Handful of lettuce leaves
1 avocado, mashed
For the pumpkin slaw
2 tsp garlic paste
1-2 tsp chilli paste
680g pumpkin, finely sliced
2 roasted red peppers, finely sliced
Half a bunch coriander, finely chopped
100g parmesan, grated
250ml vinaigrette dressing
Method
Heat the oil in a frying pan and then fry the chicken breasts for 10-12 minutes until thoroughly cooked. Turn the chicken regularly during cooking.
Lightly fry the garlic paste and chilli paste in a non-stick pan over a medium heat for 2-3 minutes. Set aside once cooked.
In a pan of boiling water, add the pumpkin and heat for no longer than 1 minute, drain and allow to cool slightly.
Mix together the pumpkin and roasted red peppers, cooked garlic and chilli paste, chopped coriander and grated parmesan in a bowl, then pour the vinaigrette dressing.
Preheat the grill, then place the slices of Monterey Jack cheese on top of the fried chicken breasts and grill until lightly melted.
To assemble the burger, place a couple of pieces of lettuce on the base of the bun, followed by a large spoonful of the pumpkin slaw. Place the fried chicken with the melted cheese on top, followed by a couple of small spoonfuls of the mashed avocado and place the Brioche Burger Bun top on.
6 Brioche Burger Buns
Pre-sliced, deliciously soft brioche buns, ready to be filled with your favourite burger. With a golden, plump texture to perfectly hold your filling together and a shiny glaze on top, this gently sweet brioche bun tastes great with every type of ingredient.
View product
Where to buy