Inspiration
Father's Day Dinner Ideas
No need to take Dad out for dinner this Father's Day as we have come up with some delicious recipe ideas that you can make to treat your Dad.
The best Father's Day Dinner Ideas
Gather your ingredients and step into the kitchen to cook up a storm this Father's Day. It's a day all about celebrating the father figure in your life – it might be your dad, step-dad, grandad… whoever it is, they deserve something special. Here at St Pierre, our recipe ideas and products are all inspired by Parisian traditions and classic French bakes, so we know a thing or two about something special.
Our range of fresh, French-inspired products are available in supermarkets across the UK.
Pick up a pack of soft Brioche rolls or a loaf to whip up a chef-standard meal in no time.
You don't need to spend money on a meal out at a restaurant this Father's Day. We've put together some inspiration for the best Father's Day dinner ideas this year using our deliciously soft and slightly sweet brioche.
Celebrate the father figure in your life with a special, homemade meal this Father's Day. Whether you're bringing the whole family together or just celebrating with your loved ones at home, at St Pierre we know how important it is to get Father's Day dinner just right.
Some of our recipe ideas take 30 minutes or less, so there's more time for celebrating.
Browse our team's carefully curated Father's Day dinner ideas below to get some inspiration for June. Make Father's Day magnifique and give these recipes a go.
Cumin Lamb And Aubergine BBQ Burger
Photo credit: MOB Kitchen
Surprise your dad with something a little exotic this Father's Day. This delicious burger is full of unexpected flavours and is the perfect dish for a hot June day. Made with homemade cumin lamb burgers, grilled aubergine, spiced mayo, crumbled feta and a bit of lettuce, we like to finish this off with a toasted St Pierre Seeded Brioche Burger Bun for a French twist.
Discover the full Cumin Lamb and Aubergine BBQ Burger recipe.
Blackened Salmon Burger
An upgraded take on fish and chips in a burger, this special dish is worthy of your favourite French restaurant (and dear old dad on Father's Day). Brush salmon fillets with melted butter and liberally coat with cajun spice mix. Fry the fillets for a few minutes on each side until cooked.
For a brilliant side dish, make up a salsa, with finely diced yellow and red peppers, tomato and spring onions (or red onions) and mix with ground pepper and lime juice. On the base of a St Pierre Brioche Burger Bun spread a thin layer of Sriracha mayonnaise and add a couple of slices of cucumber followed by the pan-fried salmon fillet. Top the salmon with a generous spoonful of the fresh salsa to finish. Délicieux!
Chocolate Burgers
It's time to treat yourself, and dad of course!
These deliciously sweet dessert burgers end your Father's Day on sweet note. Using our St Pierre Brioche Burger Buns, spread a thick layer of Nutella or chocolate spread inside and add a generous helping of whipped cream. Close the burger bun and spread more Nutella on the burger bun lid. Sprinkle with white and milk chocolate flakes and serve up for dad.
Father's Day BBQ platter
Celebrate the good weather and the start of summer with a bit of a barbecue. What could be a better excuse to get grilling than to celebrate Father's Day?! Even if it's a little drizzly (we all know and love the Great British weather), you can still grill up an amazing BBQ style feast indoors if you have to.
Get your Seeded Brioche Burger Buns  as a traditional treat and fire up the barbecue to grill some beef, turkey, chicken or veggie burgers. You also can't go wrong with hot dogs, grilled shrimp, BBQ chicken, grilled chicken thighs, grilled mushrooms or even BBQ ribs.
Load up your plate with your protein and pile on your side dish of choice. We love potato salad (with a dollop of French mustard, of course), some summery corn salad and a handful of crunchy salad leaves.
Brioche Breadcrumb Chicken Parmigiana
Fried chicken breast, rich tomato sauce, gooey cheese… what's not to love? Treat your dad to a real showstopper with a rich chicken parmigiana. We might make French-inspired breads, but we love our Italian-inspired dinners too!
Blitz up a couple of slices of Brioche Loaf (or leftover Brioche Burger Buns) in a food processor. For a touch of sophistication and to make your meal taste worthy of a Parisian bistro, add some garlic, butter and herbs to your breadcrumbs. Dip some butterflied chicken breasts into egg, bread with your brioche crumb and fry until golden brown.
Photo credit: Clark Douglas
Top the cooked breaded chicken with a dollop of marinara tomato sauce and mozzarella, and grill for a couple of minutes until it gets all melted. Serve inside a toasted Brioche Burger Bun (warm in the oven for a couple of minutes) and with salad leaves and a side of potatoes for a meal that's sure to become your dad's favourite!
Loaded Hot Dogs
It's June, it's sunny – time for a hot dog of course! Add a French twist with St Pierre Brioche Hot Dog Rolls for a little sophistication.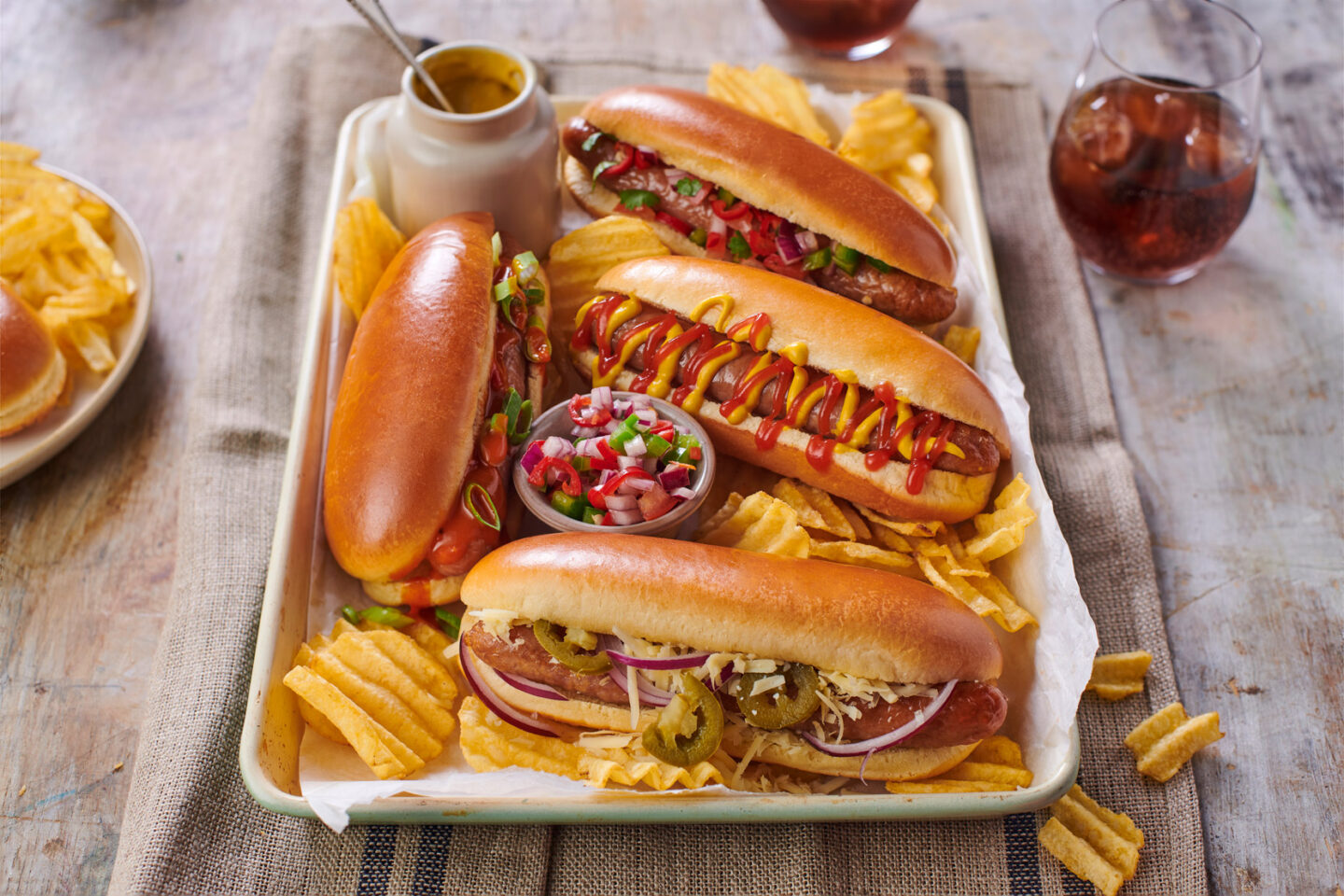 You can get creative with the toppings – perhaps some caramelised red onion chutney, or some crunchy pickles – or go traditional with ketchup and mustard. Fried onions, cheese, chili and even mac and cheese are also great options for going all out. Serve your loaded hot dogs with a side dish of French fries or a generous handful of crisps.
Chocolate Chip Brioche Bread and Butter Pudding
Finish the Father's Day dinner in style with  a true showstopper of a dessert for dad. Soak torn up chunks of our soft   in a homemade custard of eggs, cream, milk, sugar and vanilla. You could also use slices of Brioche Loaf and toss handfuls of chocolate chips into the baking dish as you layer. For a real tread for dad, you could add a shot or two of his favourite drink into the custard – rum, Bailey's or brandy work really well here.
Press the custard-soaked brioche into an ovenproof baking dish and bake until it's golden brown on top. For an extra crunchy crust, sprinkle a little brown sugar over the top before baking. Let it cool a little before serving straight out of the oven. We like ours with some Chantilly cream (whipped cream with vanilla and sugar), and fresh fruit.
---
We've put together a collection of Father's Day recipes for you to try. If you do make any of our recipes for your dad this Father's Day, make sure to tag us on our Instagram and Facebook.