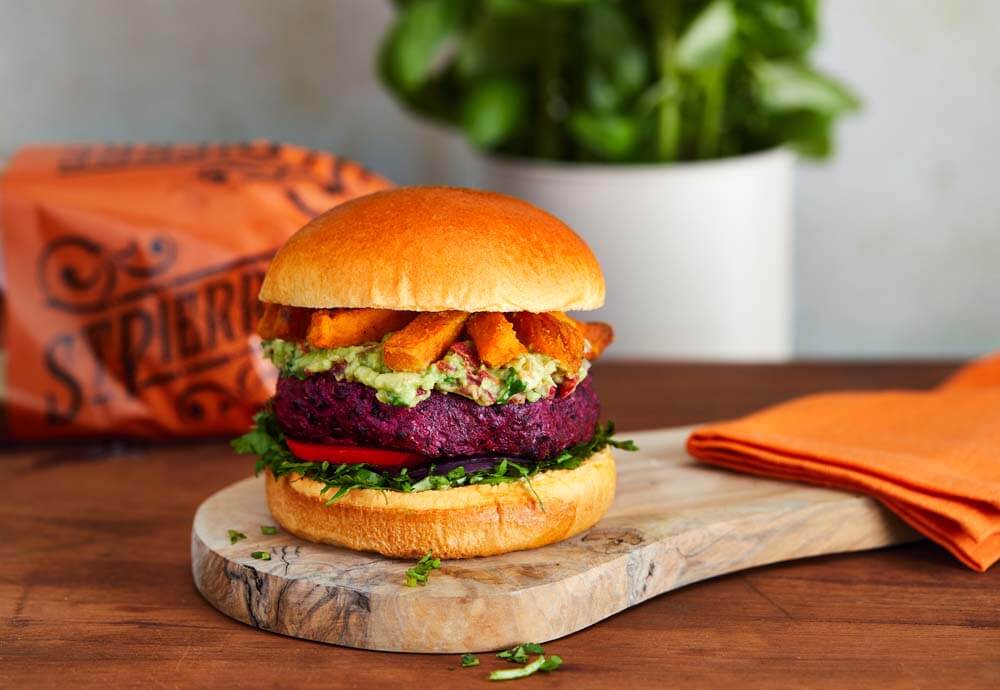 Recipe
Beetroot Burger
Beetroot Burger
Capture all the colours of a Parisian autumn with this vibrant veggie burger recipe. Featuring delicate flavours and textures including juicy beetroot, zesty lemon and fresh guacamole, they perfectly balance out the buttery taste and light sweetness of our Brioche Burger Buns
Ingredients
For the burger
4 St Pierre Brioche Burger Buns
300g beetroot, cubed
1 tbsp olive oil
180g quinoa, cooked
1 egg
1 onion, finely diced
2 garlic cloves, crushed
2 tbsp wholemeal breadcrumbs
1 tsp coconut oil melted
2 tsp lemon juice
¼ tsp chilli flakes
For the toppings
Lettuce leaves
2 tomatoes, finely sliced
Fresh parsley, chopped
Guacamole
Sweet potato fries
Method
Preheat the oven at 175°C/ Gas Mark 3. Place the beetroot cubes in a roasting tin, toss in olive oil and roast for 30 minutes until tender. Remove from the oven and set aside to cool.
Blend the roasted beetroot in a food processor and pulse two or three times.
Transfer the beetroot into a large bowl, add all the other ingredients, stir to combine, then season to taste. If the texture is too wet add more breadcrumbs until the mixture comes together more.
With slightly wet hands, shape the burgers and place them on a lined baking sheet.
Bake in the oven for 30 minutes at 175°C/ Gas Mark 3, turning over halfway through.
On the bottom of the Brioche Burger Bun, add a couple of torn lettuce leaves, a slice of tomato and some chopped parsley. Then place the beetroot burger on top. Add a thin layer of guacamole and a few sweet potato fries on top, followed by the Brioche Burger Bun top.
6 Brioche Burger Buns
Pre-sliced, deliciously soft brioche buns, ready to be filled with your favourite burger. With a golden, plump texture to perfectly hold your filling together and a shiny glaze on top, this gently sweet brioche bun tastes great with every type of ingredient.
View product
Where to buy