Recipe
Berries & Cream Brioche Swirl Pie
Berries & Cream Brioche Swirl Pie
Prep: 35 Minutes
Serves: 6
A quick and easy treat for all the family to enjoy, these Berries & Cream Brioche Swirl Pies are simple to make and delicious to eat
A quick and easy alternative if you don't have time to roll out the pastry and bake some pies from scratch, our Brioche Swirls make a delicious base for this fruity dessert. You can use whatever fruit you like to make these Berries & Cream Brioche Swirl Pies, but we have opted for the classic combination of apples and blackberries. The tanginess of the apple and blackberries come together with the light sweetness of brioche to make a magnifique dessert or sweet treat.
Ingredients
6 St Pierre Vanilla Brioche Swirls
3 large apples
1 tbsp granulated sugar
2 tbsp water
250g blackberries
Cream to serve
Method
Peel and core your apples before chopping into bitesize chunks
Place the apples, sugar and water into a pan and mix together so that the apples are coated in the sugar
Bring to the boil before covering and reducing to a low heat
Stir occasionally until the apples are soft and you start to see a syrup
Add in the blackberries and mix them in. Raise the heat slightly, so that the syrup starts to bubble
Cover again and return to a low heat for around 5 minutes
Once the fruit is cooked set to one side whilst you cut the Brioche Swirls in half horizontally and warm in the oven for a couple of minutes
To put your 'pies' together, add a spoonful of the fruit to the bottom of each swirl, a dollop of cream and then pop the top of the swirl on
Serve with any of the extra fruit
Bon appétit!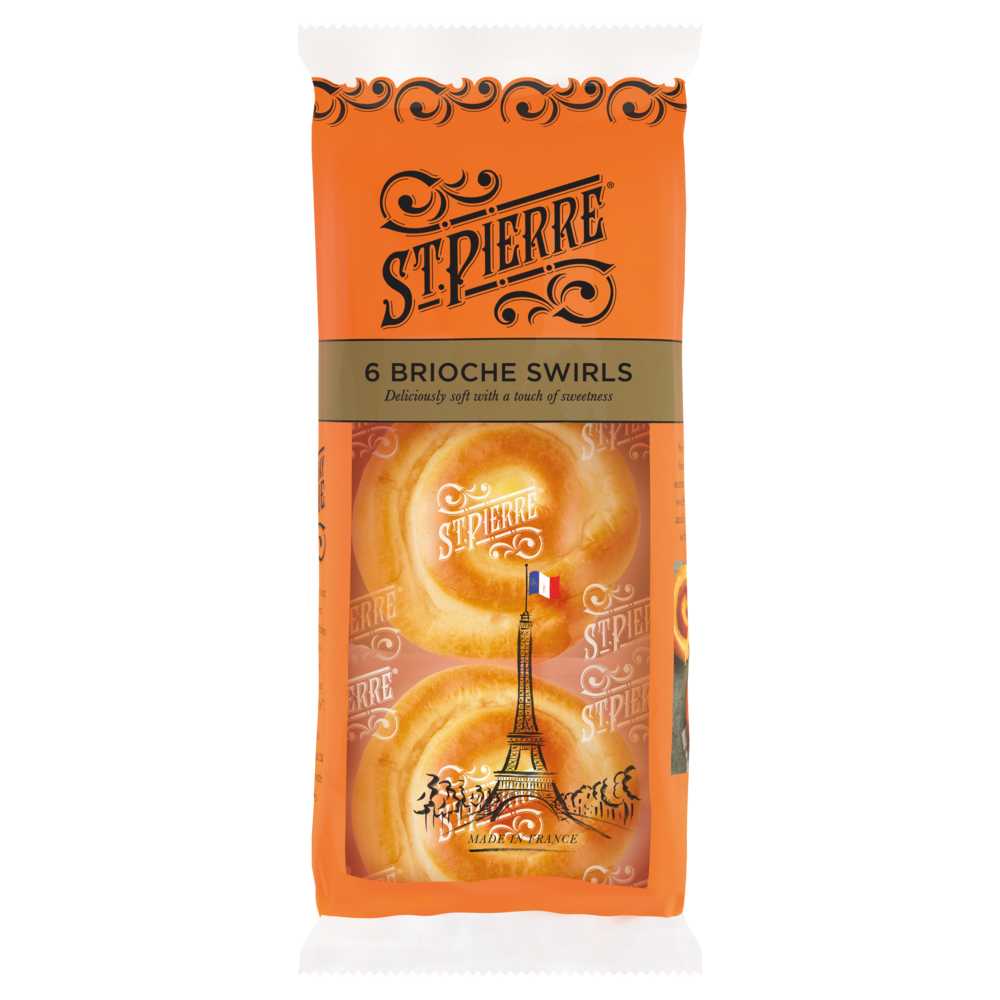 6 Brioche Swirls
Sweet and soft like a breeze on a Parisian summer day, our St Pierre Brioche Swirls combine rich, golden brioche and sweet, creamy vanilla custard for a whirlwind of flavour. Each are wrapped on its own to keep them fresh, so you can enjoy whenever and wherever you want.
As a breakfast treat, a midday snack or an indulgent dessert, it's simply "Magnifique"!
View product
Where to buy