Recipe
Brioche Bread & Butter Pudding
Brioche Bread & Butter Pudding
A classic British pudding with a St Pierre twist, simply switch out bread slices for our magnifique Brioche Swirls to elevate your desserts.
Elevate the classic British bread and butter pudding dessert with St Pierre brioche. Using our Brioche Swirls as the base of the pudding, the light sweetness of brioche mixed with tangy raspberries and spiced custard makes a delicious dessert, perfect for when you want to impress your family and friends.
Ingredients
6 St Pierre Vanilla Brioche Swirls or Chocolate Chip Brioche Swirls
10g butter
350ml milk
100ml double cream
3 eggs
50g golden caster sugar
1 tsp vanilla extract
Grated nutmeg
100g raspberries
Method
Preheat the oven to 180 C / 160 C fan / Gas Mark 4
Use the butter to lightly grease a baking dish before arranging the Brioche Swirls in the dish
Gently warm the milk and cream in a saucepan over a low heat until steaming hot
Meanwhile whisk the eggs with the caster sugar before slowly adding in the heated milk, stirring the mixture until smooth
Add the vanilla extract and grated nutmeg to the custard before pouring over the Brioche Swirls in the baking dish, making sure to soak all of the swirls
Sprinkle the raspberries over the pudding before baking in the oven for 35-40 minutes
Once baked, take the pudding out of the oven and leave to rest for several minutes before serving
Bon appétit!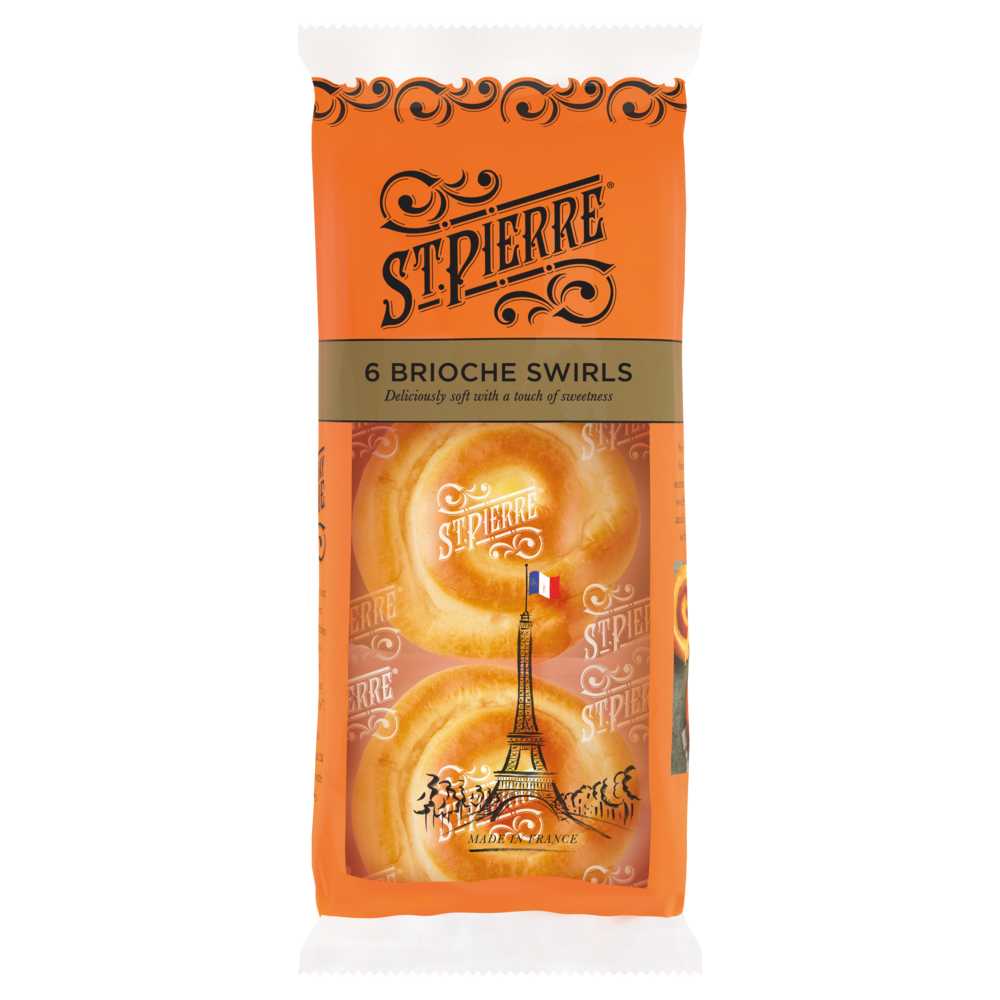 6 Brioche Swirls
Sweet and soft like a breeze on a Parisian summer day, our St Pierre Brioche Swirls combine rich, golden brioche and sweet, creamy vanilla custard for a whirlwind of flavour. Each are wrapped on its own to keep them fresh, so you can enjoy whenever and wherever you want.
As a breakfast treat, a midday snack or an indulgent dessert, it's simply "Magnifique"!
View product
Where to buy
6 Chocolate Chip Brioche Swirls
Light vanilla custard, smooth chocolate chips, and folds of golden brioche, come together in a swirl of flavour. Our St Pierre Chocolate Chip Brioche Swirls are soft indulgent spin on a classic French "brioche au chocolat." For any time you need to bring a little sweetness to your day.
Each swirl is wrapped separately on its own for added freshness. They're ideal for snacking on – any time you want!
View product
Where to buy