Recipe
Breakfast Bagels
Breakfast Bagels
Prep: 20 Minutes
Serves: 2
Start your day off with this magnifique breakfast bagel filled with all your favourite breakfast flavours.
Taking classic breakfast ingredients and adding a French twist with a St Pierre Brioche Soft Bagel. Fresh avocado, crispy bacon and a fried egg all come together to help you start off your morning in a magnifique way. Our favourite part is having a runny egg yolk and being able to have that satisfying egg pop moment.
Ingredients
2 St Pierre Brioche Soft Bagels
4 bacon rashers
2 eggs
1 avocado
Chilli powder
Lemon juice
1 tomato, sliced
A handful of spinach
Method
Preheat the grill to a medium-high heat before grilling your bacon rashers until they are as crispy as you like
Meanwhile, crack your eggs into a frying pan and fry until cooked
Chop the avocado in half, scoop out the inside and put into a bowl
Add in a sprinkle of chilli powder and some lemon juice before mashing together with a fork
Grill the bagels for 1-2 minutes until golden brown, remove from the heat and spread on the smashed avocado to the bottom of the bagel
Layer the tomato, crispy bacon and fried eggs on top of the breakfast bagels before adding a little bit of spinach and topping with the bagel lid
Bon appétit!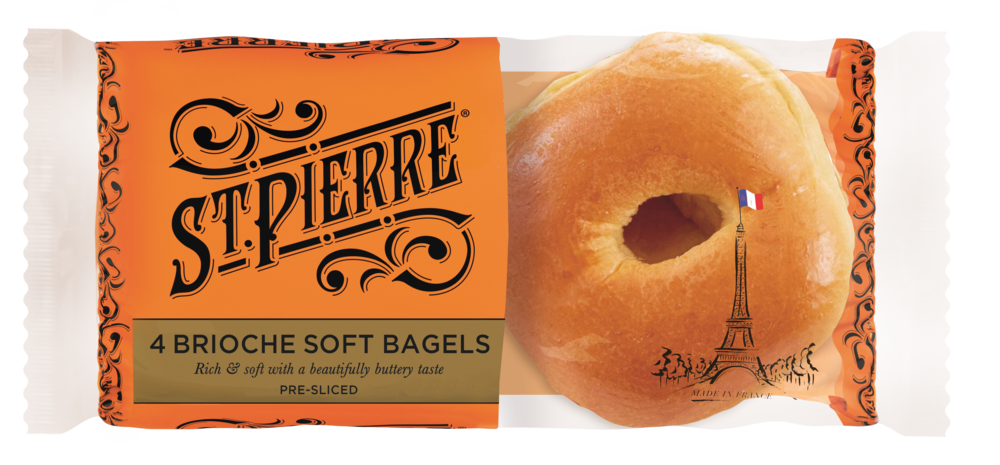 4 Brioche Soft Bagels
Try our take on a New York classic with a St Pierre Parisian flair. Our Brioche Bagels are lightly sweet, golden and soft – ideal for a decadent lunch or breakfast on the go.
This French-inspired twist on the classic is delicious any time of the day. The ideal canvas for your favourite toppings – from smoked salmon with cream cheese to a classic BLT sandwich – with our bagels every meal is magnifique.
View product
Where to buy