Recipe
Chicken & Salsa Burger
Chicken & Salsa Burger
Prep: 40 Minutes
Serves: 2
Take your chicken burger to new heights with St Pierre's Brioche Bagels, bacon mayonnaise and salsa.
Add a little je-ne-sais-quoi to your chicken burger with bacon mayonnaise, salsa and of course a soft St Pierre Brioche Soft Bagel. Deliciously simply and perfect for anytime of the week, you won't want to have your chicken burger any other way again.
Ingredients
2 St Pierre Brioche Soft Bagels
2 buttermilk or southern fried chicken fillets
Battered onion rings
2 rashers streaky bacon
2 tbsp mayonnaise
1 tsp chopped chives
Black pepper
A handful of lettuce leaves
2 tbsp salsa
Method
Cook the chicken fillets and onion rings according to the instructions on the packets
Meanwhile, grill or fry the bacon rashers until crispy, remove from the heat then chop them into small pieces and place in a bowl
Add in the mayonnaise, chopped chives and a good pinch of black pepper and mix to combine
When the chicken is almost ready, lightly grill the insides of the Brioche Bagels until golden brown – around 1-2 minutes
Spread the bases of the Brioche Bagels with the bacon mayonnaise and add some lettuce leaves
Add the chicken fillets before topping with a generous spoonful of salsa and pop on the Brioche Bagel lids
Serve alongside the onion rings, and a little extra salsa for dipping in
Bon appétit!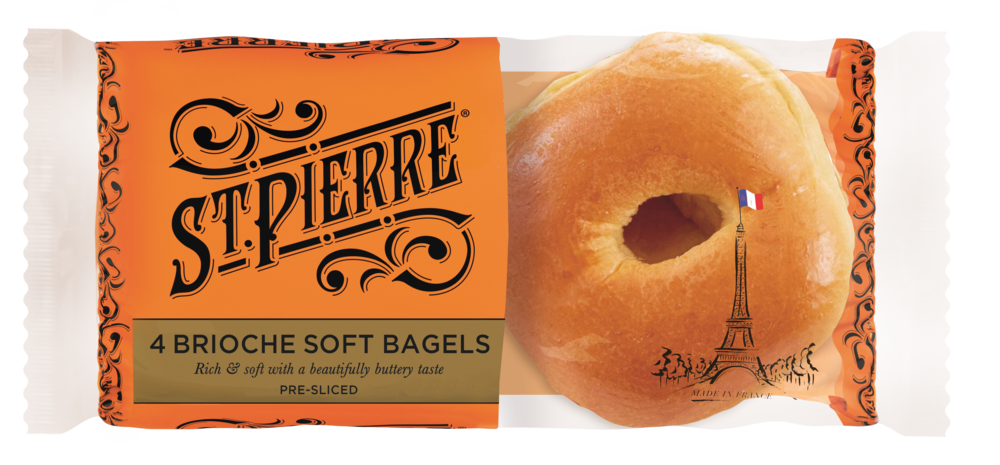 4 Brioche Soft Bagels
Try our take on a New York classic with a St Pierre Parisian flair. Our Brioche Bagels are lightly sweet, golden and soft – ideal for a decadent lunch or breakfast on the go.
This French-inspired twist on the classic is delicious any time of the day. The ideal canvas for your favourite toppings – from smoked salmon with cream cheese to a classic BLT sandwich – with our bagels every meal is magnifique.
View product
Where to buy