Recipe
Christmas Cupcake Eggnog Swirl
Christmas Cupcake Eggnog Swirl
Prep: 20 Minutes
Serves: 6
A Parisian bakery twist on the classic festive drink, these Eggnog Cupcake Swirls can be whipped up in under 20 minutes to impress your Christmas guests.
Inspired by the traditional Christmas drink these Eggnog Cupcake Swirls make the perfect Christmas treat. Serve to your family and friends alongside an eggnog drink as a delicious afternoon delight or festive sweet treat using our Brioche Swirls and/or our Chocolate Chip Brioche Swirls.
Ingredients
6 St Pierre Brioche Swirls (Vanilla or Chocolate Chip)
300ml whipping cream
1-2 tsp vanilla extract
½ tsp ground nutmeg
4 tbsp advocaat drink
4 tbsp icing sugar, sifted
Pinch ground cinnamon
Chocolate star decorations (optional)
Method
Warm the brioche swirls in the oven for a few minutes then set aside on a serving plate or board
Whip the cream with a hand whisk or electric hand whisk until it forms soft peaks
Add the vanilla and nutmeg and whisk again briefly, then fold in the advocaat and icing sugar with a metal spoon
Transfer the eggnog cream to a piping bag fitted with large star nozzle
Pipe spirals of the cream onto each brioche swirl then sprinkle on a little cinnamon and add a chocolate star for decoration
Bon appétit!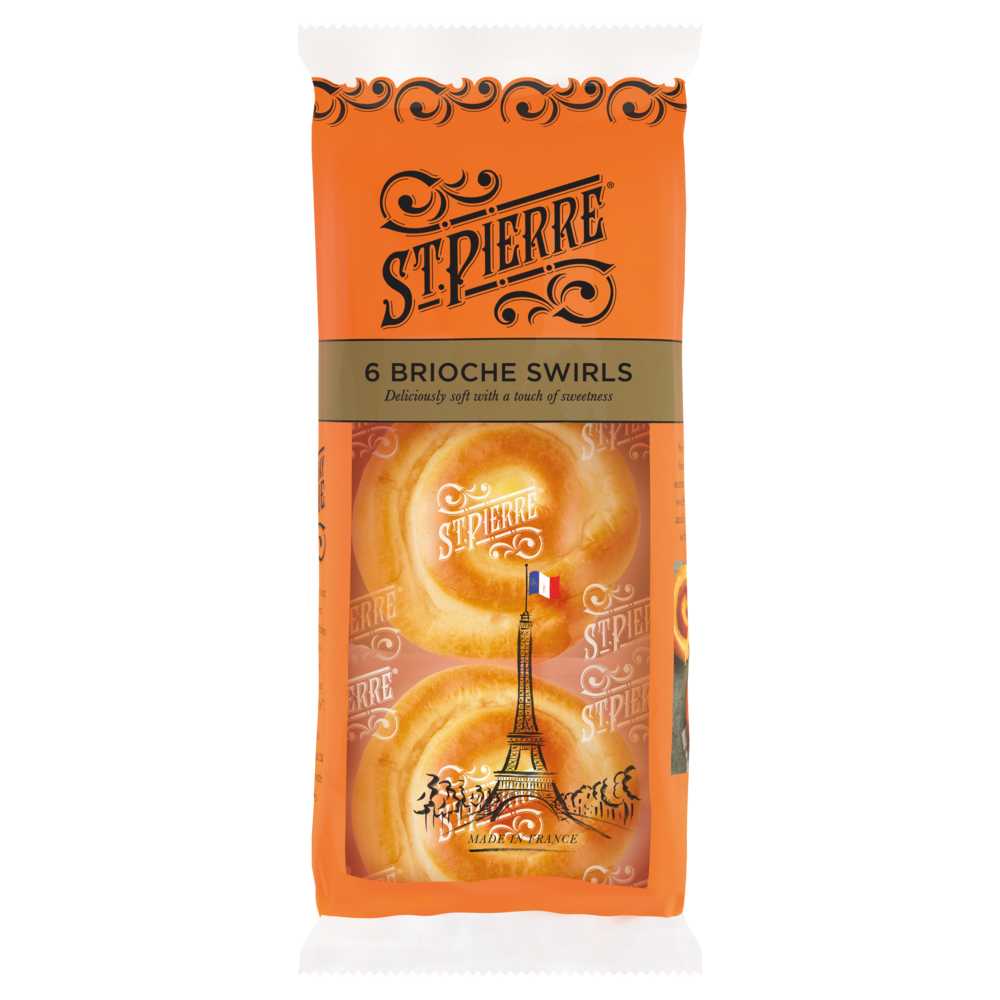 6 Brioche Swirls
Sweet and soft like a breeze on a Parisian summer day, our St Pierre Brioche Swirls combine rich, golden brioche and sweet, creamy vanilla custard for a whirlwind of flavour. Each are wrapped on its own to keep them fresh, so you can enjoy whenever and wherever you want.
As a breakfast treat, a midday snack or an indulgent dessert, it's simply "Magnifique"!
View product
Where to buy
6 Chocolate Chip Brioche Swirls
Light vanilla custard, smooth chocolate chips, and folds of golden brioche, come together in a swirl of flavour. Our St Pierre Chocolate Chip Brioche Swirls are soft indulgent spin on a classic French "brioche au chocolat." For any time you need to bring a little sweetness to your day.
Each swirl is wrapped separately on its own for added freshness. They're ideal for snacking on – any time you want!
View product
Where to buy