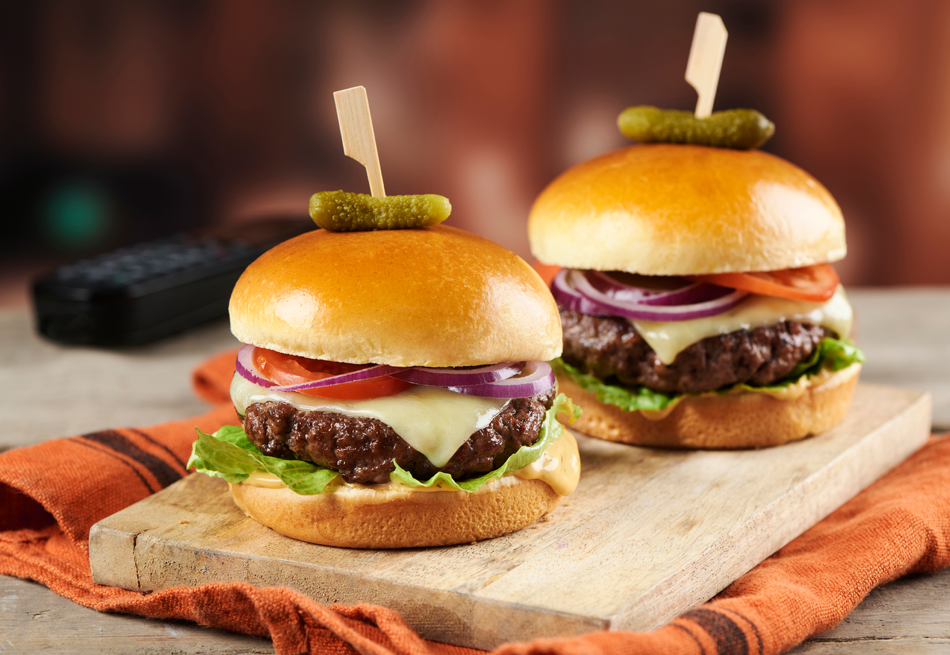 Recipe
Classic Brioche Cheeseburger
Classic Brioche Cheeseburger
Prep: 15 minutes
Serves: 4
Sometimes, only the classics will do
This recipe for a Classic Brioche Cheeseburger is a crowd-pleaser and a delicious way to get back to basics. Made with our light and golden St Pierre Brioche Burger Buns, fresh lettuce and a juicy beef patty, it makes the simple things "magnifique".
Ingredients
4 St Pierre Brioche Burger Buns
4 beef burgers
4 cheese slices
1 lettuce, torn into medium-sized pieces
1 red onion, thinly sliced
1 tomato, sliced
Burger sauce
Method
Grill the beef burgers according to the cooking instructions on the pack
Lightly grill 4 St Pierre Brioche Burger Buns for 1-2 minutes under the grill – keep an eye on them, as they will toast quickly
Add a thin layer of burger sauce to the base of each Brioche Burger Bun, then add a couple of pieces of lettuce
Place the beef burger and a slice of cheese on top of the lettuce
Finish off with a slice of tomato and a couple of slices of red onion, and pop the Brioche Burger Bun lid on top
Bon appétit!

4 Brioche Burger Buns
Give your burger the luxury treatment. St Pierre Brioche Burger Buns (also available in a pack of 6 buns or as Seeded Burger Buns) are ready sliced so you can start enjoying them even sooner. Deliciously decadent, gorgeously golden and sumptuously soft, try our brioche buns to upgrade your next burger night.
View product
Where to buy

6 Brioche Buns
Pre-sliced, deliciously soft brioche buns, ready to be filled with your favourite burger, our St Pierre Brioche Buns are made for you to take your time. Golden like a Parisian sunset with a plump texture to perfectly hold your filling together and a shiny glaze on top, this gently sweet brioche bun tastes great with every type of ingredient to take your meals to Paris.
View product
Where to buy