Recipe
Brioche Cupcakes
Brioche Cupcakes
Prep: 15 minutes
Serves: 6
Quick and easy improvised cupcakes
A simple Brioche Cupcakes recipe using St Pierre's Brioche Swirls, topped with buttercream and decorated with sprinkles on top! Easy to make, but simply delicious, these cupcakes are perfect for those last minute get togethers.
Brioche Cupcakes made using St Pierre Brioche Swirls are a delicious and unique twist on traditional cupcakes. St Pierre Swirls are a type of French brioche pastry that has a soft, fluffy texture and a slightly sweet taste. It is swirled with a delicious vanilla custard and makes an indulgent dessert on it's own.
To make those cupcakes using St Pierre Swirls, you'll simply need to add your favorite cupcake frosting on top of it and optionnaly sprinkle some nice decoration. The brioche base adds a rich, buttery flavour to the cupcakes and gives them a unique texture that is both soft and slightly chewy.
There are many reasons why these cupcakes using St Pierre Brioche Swirls are good. Firstly, the brioche base adds a richness and depth of flavour to the cupcakes that you can't get with traditional cupcakes. Secondly, the soft, fluffy texture of the brioche pairs perfectly with the moist cupcake frosting. Finally, the unique shape and texture of the cupcakes are sure to impress guests and make any occasion feel special.
Overall, cupcakes using St Pierre Swirls are a delicious and unique way to elevate your cupcake game. Give them a try and you're sure to fall in love with this tasty twist on a classic dessert!
Ingredients
6 St Pierre Brioche Swirls
or with Chocolate Chips
Buttercream frosting (either homemade or shop bought)
Sweet sprinkles
Method
Arrange each individual brioche swirl on a plate
Top with buttercream frosting
Sprinkle your favourite decorations on top
Serve in minutes and impress your guests!
Bon appétit!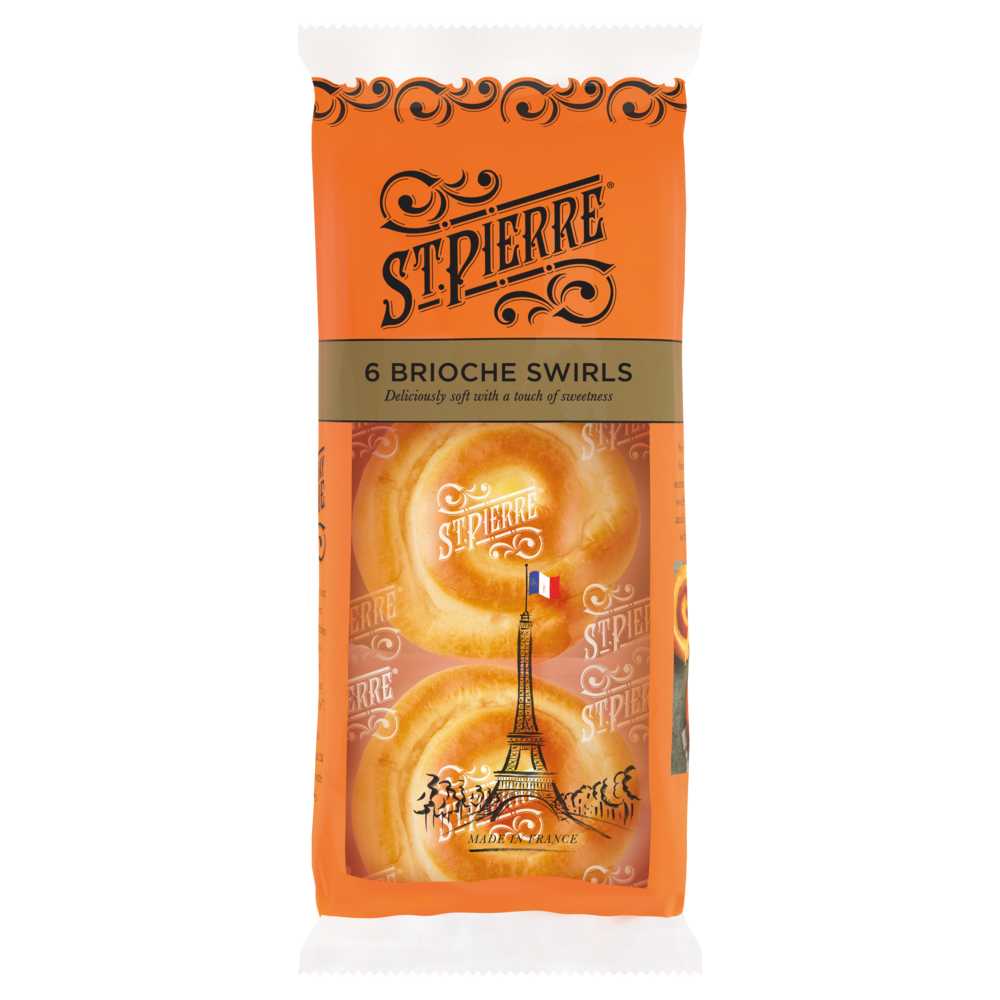 6 Brioche Swirls
Sweet and soft like a breeze on a Parisian summer day, our St Pierre Brioche Swirls combine rich, golden brioche and sweet, creamy vanilla custard for a whirlwind of flavour. Each are wrapped on its own to keep them fresh, so you can enjoy whenever and wherever you want.
As a breakfast treat, a midday snack or an indulgent dessert, it's simply "Magnifique"!
View product
Where to buy
6 Chocolate Chip Brioche Swirls
Light vanilla custard, smooth chocolate chips, and folds of golden brioche, come together in a swirl of flavour. Our St Pierre Chocolate Chip Brioche Swirls are soft indulgent spin on a classic French "brioche au chocolat." For any time you need to bring a little sweetness to your day.
Each swirl is wrapped separately on its own for added freshness. They're ideal for snacking on – any time you want!
View product
Where to buy