Brioche
Brioche is an enriched French bread. It's lightly sweet, soft and has a rich golden colour. Brioche works just as well with sweet dishes as it works with savoury ones, and it's a taste of Paris in every bite.
Brioche works in breakfast dishes, for lunch or dinner, and even dessert. In fact, you could enjoy brioche bread at any meal of the day… for when you want to take your time and enjoy a moment for yourself.
What are the different types of brioche?
St Pierre brioche comes in a range of styles and flavours. You can savour plain brioche or add an extra touch of sweetness with vanilla brioche, chocolate chip brioche… the delicious combinations are almost endless.
The traditional brioche shape is a round loaf with a smaller 'head' or ball on top – the proper name for this type is 'brioche Parisienne' or 'brioche à tête'. These days, when you shop at your local supermarket you're more likely to see an oblong Brioche Loaf (often sliced) – this is named 'brioche Nanterre'.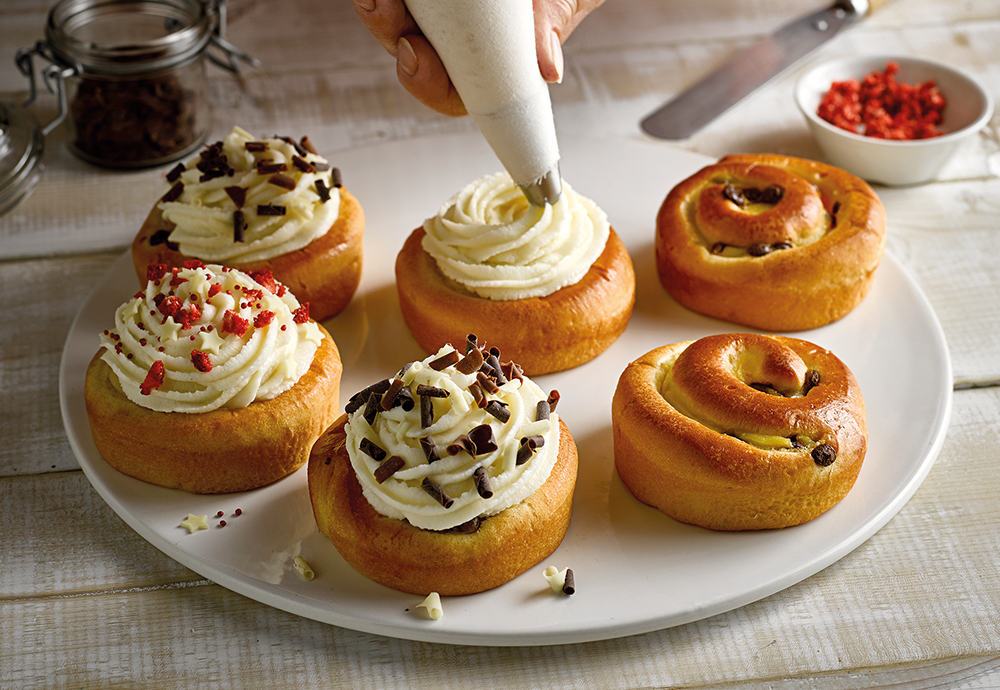 There are also smaller brioche varieties in the St Pierre range, ideal for afternoon tea, an afternoon snack, or a treat for when you just need a little pick-me-up. Our Vanilla Brioche Tear & Share brings a touch of Paris to gatherings with family and friends, and the individual Brioche Swirls make for a sweet moment of indulgence for one.
A common brioche product you'll often see on menus in the UK as well as in Paris is the classic brioche burger bun. Whether you opt for a shiny Brioche Burger Bun or a more classic Sesame Seed Brioche Burger Bun, upgrade your burger with an elegant French twist.
Peruse our range of brioche products for inspiration, and bring a touch of Paris right to your table.
Frequently Asked Questions
What is brioche?
Brioche is a French bread (or, more accurately, a 'viennoiserie' – pastry-bread hybrid), with ingredients that can include eggs, sugar, milk and butter.
How is brioche made?
How to make brioche at home? Combine good quality butter, eggs, milk, flour, sugar, salt and yeast and knead into a soft dough – gradually adding the heated milk and softened butter. Brioche dough is kneaded and shaped into rolls, shapes or loaves, and egg washed before baking.
Is brioche bread sweet?
Many people consider brioche a cross between bread and cake! It is technically a type of viennoiserie, which is what the French call enriched, more indulgent bread. . The sweetness of brioche and its rich texture makes it  an ideal choice for any meal– simply magnifique, if you ask us.
Is brioche bread healthy?
Brioche is an indulgent treat, owing to key ingredients butter, sugar and flour, it's certainly good for the soul!  It's a fantastique choice  for when you want to savour a moment or imagine yourself lounging outside a Parisian café, and works just as well in the morning for breakfast as after work for a well-deserved burger.
What is brioche bread used for?