Recipe
Firecracker Chicken Bagel
Firecracker Chicken Bagel
Sweet and spicy meet for an explosion of flavour.
If you're in need of something to serve to your guests this Autumn, then try these Firecracker Chicken Bagels. Spicy chicken served inside a lightly sweet St Pierre Brioche Soft Bagel makes for a delicious sweet and spicy combo. Easy to make and great for serving at your next Halloween of Bonfire Night party.
Ingredients
4 St Pierre Brioche Soft Bagels
2-3 cm piece fresh ginger, peeled and grated (or use a ready made ginger puree)
2 garlic cloves, crushed
2 tbsp sweet chilli sauce
1 tbsp soy sauce
1 tbsp Worcestershire sauce
1 tbsp honey
1 tbsp sriracha
1 tsp dried chilli flakes
6 skinless boneless chicken thighs
Lettuce
Jalapenos
Onion rings to serve
Method
In a shallow oven proof dish, mix together the ginger, garlic, sweet chilli, soy and Worcestershire sauces with the honey, sriracha and chilli flakes. Stir and add the chicken thighs. Cover the dish tightly and marinate in the fridge for at least half an hour but ideally two hours
Preheat the oven to 150°C / 130°C fan / Gas Mark 2
Place the covered dish onto a baking tray and cook the chicken for one hour. After an hour, increase the temperature to 180°C / 160°C fan / Gas Mark 4, uncover the dish and cook for a further 20 minutes
Pour the juices into a small saucepan and simmer for around 7-8 minutes to reduce and thicken
Lightly toast the insides of the brioche bagels
Shred the chicken with two forks, spoon over some of the reduced sauce and mix
Add some lettuce to the bottom of the bagels, then pile on the shredded chicken
Top with a few jalapenos and place on the lids. Serve with onion rings on the side if you like
Bon appétit!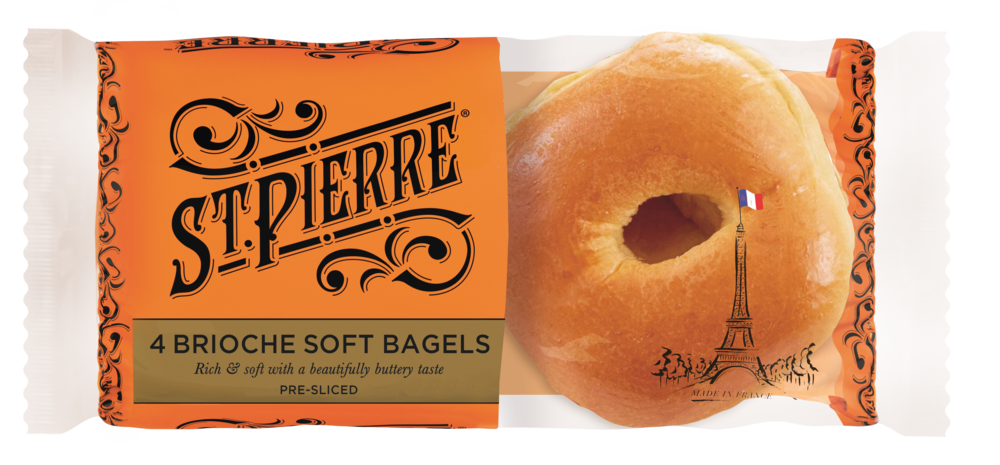 4 Brioche Soft Bagels
Try our take on a New York classic with a St Pierre Parisian flair. Our Brioche Bagels are lightly sweet, golden and soft – ideal for a decadent lunch or breakfast on the go.
This French-inspired twist on the classic is delicious any time of the day. The ideal canvas for your favourite toppings – from smoked salmon with cream cheese to a classic BLT sandwich – with our bagels every meal is magnifique.
View product
Where to buy