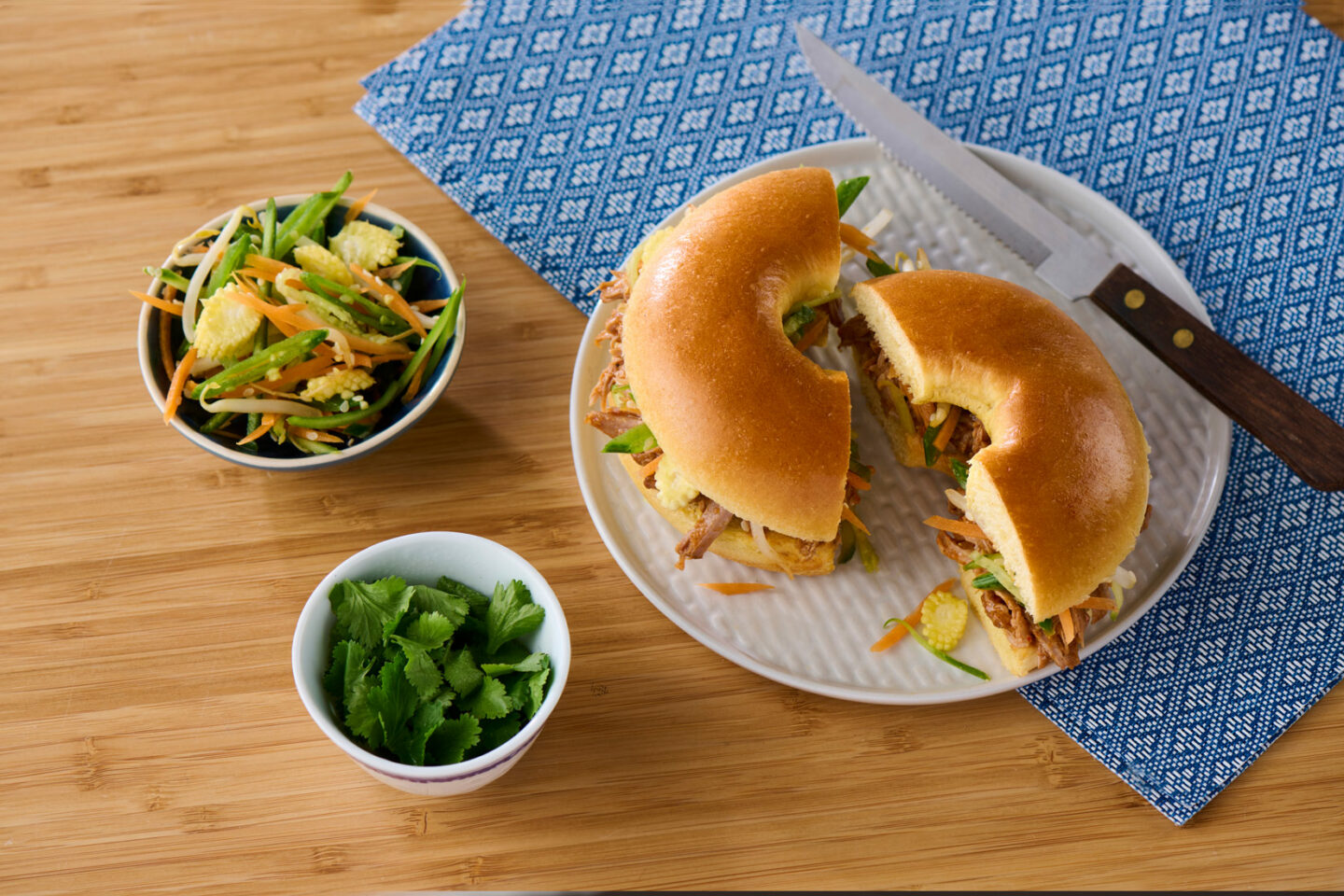 Recipe
Korean Pulled Pork Brioche Bagel with Asian Slaw
Korean Pulled Pork Brioche Bagel with Asian Slaw
Prep: 50 Minutes
Serves: 4
When Korean BBQ and French bakery come together
Seoul meets Paris with these Korean Pulled Pork Brioche Bagels with Asian slaw. Filled with juicy pulled pork, homemade gochujang BBQ sauce and sesame slaw, all inside a golden St Pierre Brioche Soft Bagel, you will feel as though you have been around the world in just one night.
Ingredients
4 St Pierre Brioche Soft Bagels
1 pack ready to heat pulled pork
1-2 tbsp gochujang chilli sauce/paste
1 tsp soy sauce
1 tsp fresh ginger, grated
2-3 tbsp BBQ sauce or ketchup
1 carrot, peeled & grated
A handful of fresh beansprouts
6 baby corn, thinly sliced
A handful mange-tout, finely chopped
1 tsp sesame seeds
1 tsp caster sugar
2 tsp rice vinegar or white wine vinegar
1 tsp sesame oil
Fresh coriander, chopped
Method
Preheat the oven and cook the pulled pork according to the instructions, but don't add the sauce at the end
Meanwhile, place the gochujang, soy sauce, ginger and BBQ sauce (or ketchup) in a small saucepan
Add a splash of water and heat gently for a couple of minutes until bubbling, then turn off and set aside
Place the grated carrot into a large bowl and add the beansprouts and sliced baby corn
Add the finely chopped mange-tout and the sesame seeds to the slaw
Place the caster sugar into a small bowl and add a teaspoon of boiling water to dissolve it
Add the vinegar and sesame oil and mix together before pouring over the slaw as a dressing, and mix well
When the pork is ready, shred with two forks and pour the gochujang sauce over the top
Warm the bagels under the grill, or in a toaster until golden brown – around 1-2 minutes
Pile some pork into each toasted bagel, then top with a large spoonful of slaw and a few coriander leaves and pop on the lids
Serve with any of the extra slaw on the side
Bon appétit!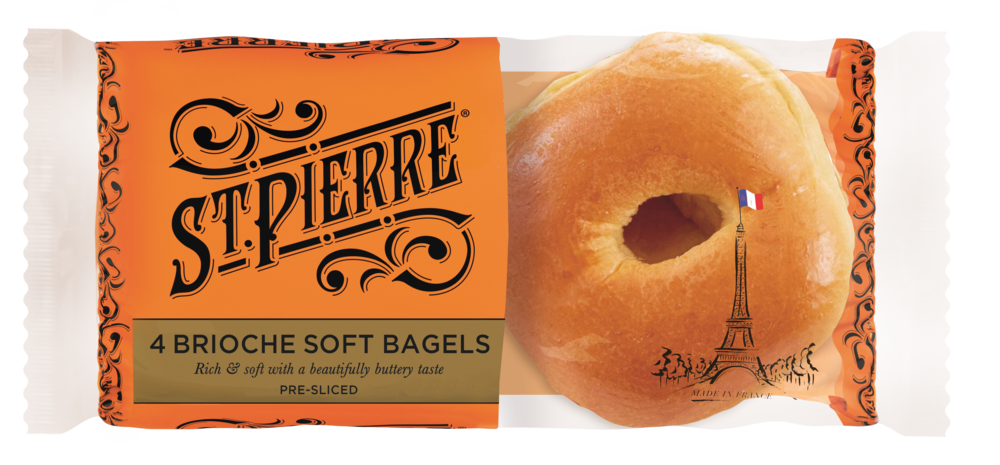 4 Brioche Soft Bagels
Try our take on a New York classic with a St Pierre Parisian flair. Our Brioche Bagels are lightly sweet, golden and soft – ideal for a decadent lunch or breakfast on the go.
This French-inspired twist on the classic is delicious any time of the day. The ideal canvas for your favourite toppings – from smoked salmon with cream cheese to a classic BLT sandwich – with our bagels every meal is magnifique.
View product
Where to buy