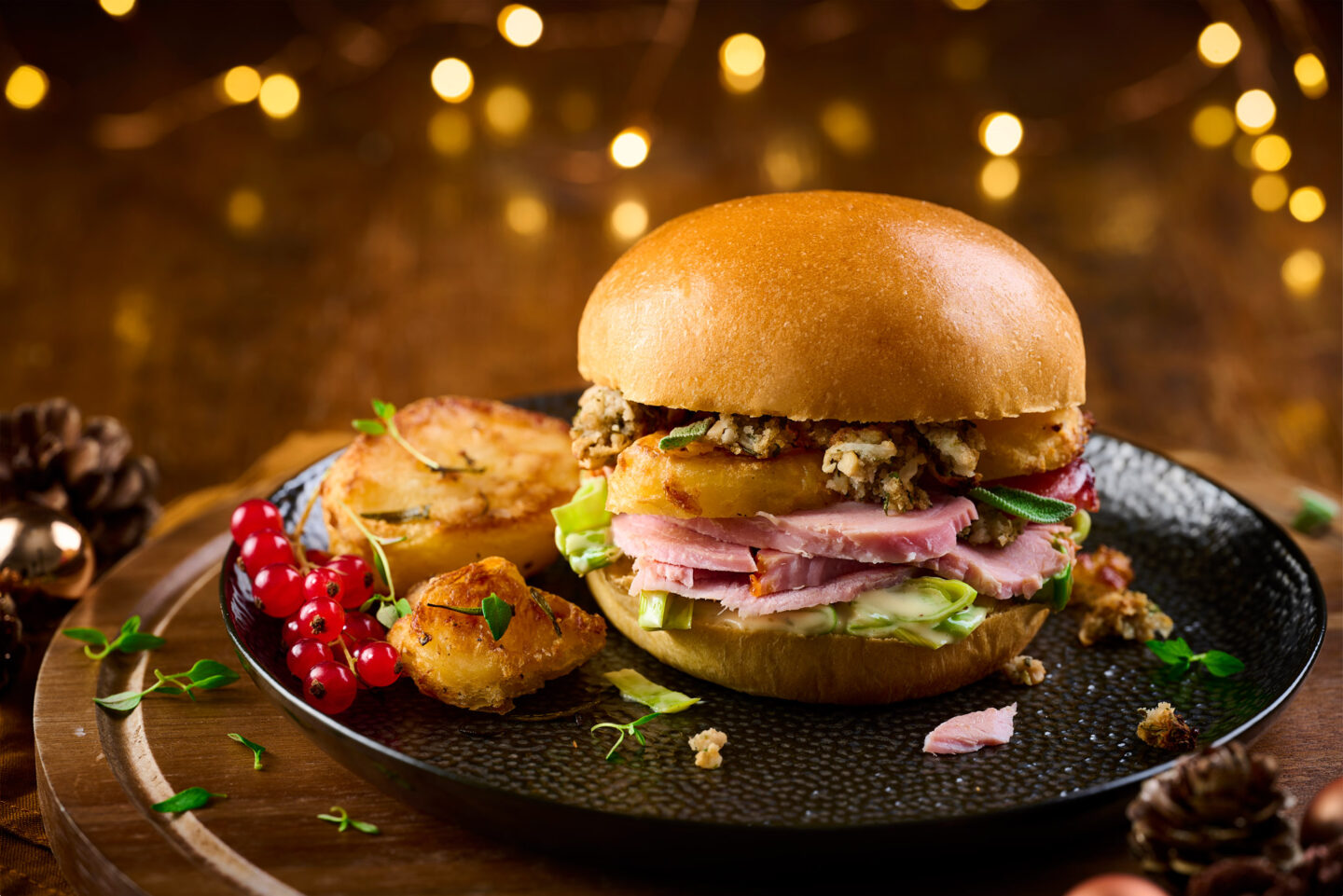 Recipe
Leftover Ham & Creamed Leek Brioche Burgers
Leftover Ham & Creamed Leek Brioche Burgers
Breathe new life into your Christmas leftovers with this recipe for St Pierre Leftover ham and creamed leek brioche buns. Leftover ham, stuffing and sprouts come together to create this irresistible Boxing Day treat.
Ingredients
4 St Pierre Brioche Burger Buns
1 tbsp vegetable or light olive oil
1 tbsp butter
1or 2 leeks, cleaned and thinly sliced
Few leftover sprouts, sliced (optional!)
Black pepper
200ml single or whipping cream
Leftover roast ham, roughly sliced
Leftover roast potatoes
Leftover stuffing
Few fresh sage and thyme leaves
Cranberry sauce to serve
Method
Warm the leftover potatoes in a moderate oven, adding the brioche buns for a minute or two once the potatoes are hot
Meanwhile, fry the leeks in the oil and butter in a large frying pan over medium heat for about 5 minutes then add the sliced sprouts if using and fry gently for another few minutes
Season well with black pepper and stir in the cream. Heat gently for another couple of minutes until slightly thickened then turn off
Slice the roast potatoes. Add a spoonful of the creamy leeks to each bun, then add some slices of ham a sliced potato and some stuffing
Sprinkle on a few herbs and serve with any potatoes that are left and some cranberry sauce or redcurrants on the side
Bon appétit!
6 Brioche Burger Buns
Pre-sliced, deliciously soft brioche buns, ready to be filled with your favourite burger. With a golden, plump texture to perfectly hold your filling together and a shiny glaze on top, this gently sweet brioche bun tastes great with every type of ingredient.
View product
Where to buy