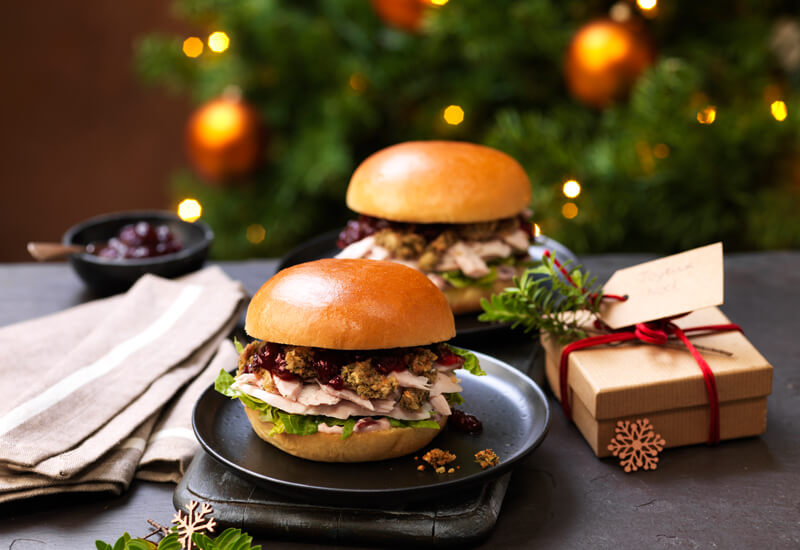 Recipe
Christmas Leftover Turkey & Stuffing Brioche Burgers
Christmas Leftover Turkey & Stuffing Brioche Burgers
Add a Parisian twist to your leftover Turkey and stuffing from Christmas with our recipe for a leftover turkey and stuffing brioche burger.
Ingredients
6 St Pierre Brioche Burger Buns
Leftover turkey, shredded
Sage & onion stuffing
A large handful of lettuce, torn
Cranberry sauce
For the cranberry mayonnaise
3 tbsp mayonnaise
1-2 tsp cranberry sauce
Method
Create a cranberry mayonnaise for your leftover burger by mixing a few big spoonfuls of mayonnaise with cranberry sauce.
Spread the cranberry mayonnaise on the bottom of each St Pierre Brioche Burger Bun, followed by a couple of lettuce leaves, some leftover turkey and stuffing and an extra dollop of cranberry sauce if you like
Bon appétit!
6 Brioche Burger Buns
Pre-sliced, deliciously soft brioche buns, ready to be filled with your favourite burger. With a golden, plump texture to perfectly hold your filling together and a shiny glaze on top, this gently sweet brioche bun tastes great with every type of ingredient.
View product
Where to buy