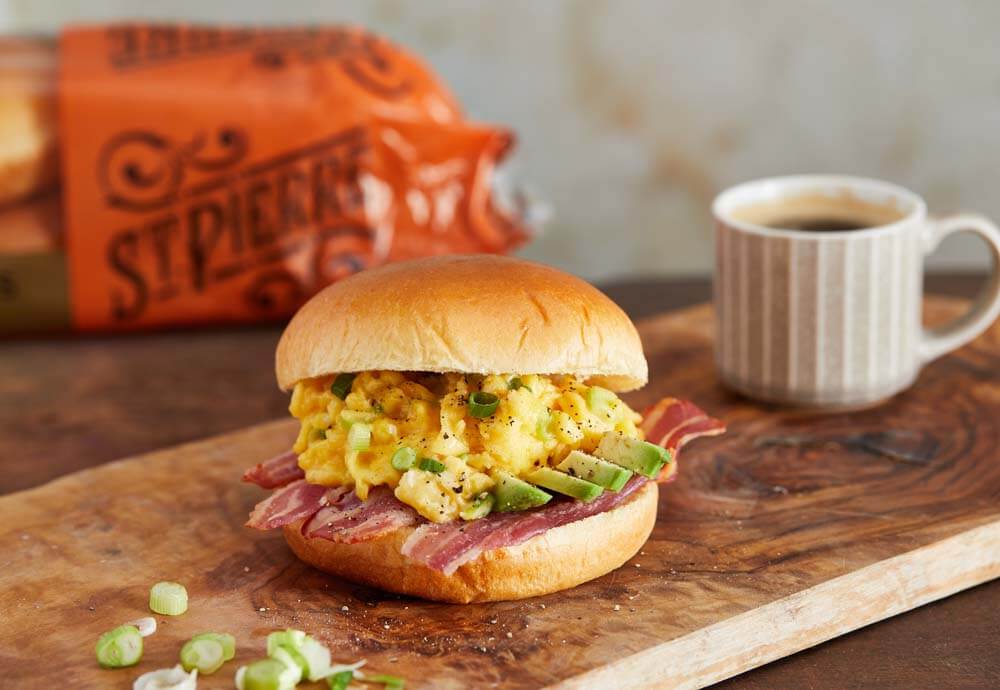 Recipe
Scrambled Egg Breakfast Burger
Scrambled Egg Breakfast Burger
The perfect combination of breakfast classics and brioche.
This 'eggs-travagant' breakfast burger is the perfect combination of rich breakfast classics and our buttery tasting Brioche Burger Buns. Fluffy scrambled eggs with smoky bacon, creamy avocado and spring onion make for an ideal weekend treat for those who enjoy a little extra "je-ne-sais-quoi"
Ingredients
2 St Pierre Brioche Burger Bun
3 eggs, whisked
1 tbsp butter
1 spring onion, chopped
1 pack of smoky bacon (6 rashers)
1 avocado, thinly sliced
Method
Preheat the grill.
Gently scramble the eggs with butter in a saucepan until rich and creamy, making sure the eggs do not overcook. Add the chopped spring onion, then season to taste.
Meanwhile grill the bacon – until as crispy as you like!
Add sliced avocado and grilled bacon to the bottom of the buns, and top with a couple of spoonfuls of the scrambled egg. Finish with the top of the bun.
Bon appétit!
6 Brioche Burger Buns
Pre-sliced, deliciously soft brioche buns, ready to be filled with your favourite burger. With a golden, plump texture to perfectly hold your filling together and a shiny glaze on top, this gently sweet brioche bun tastes great with every type of ingredient.
View product
Where to buy