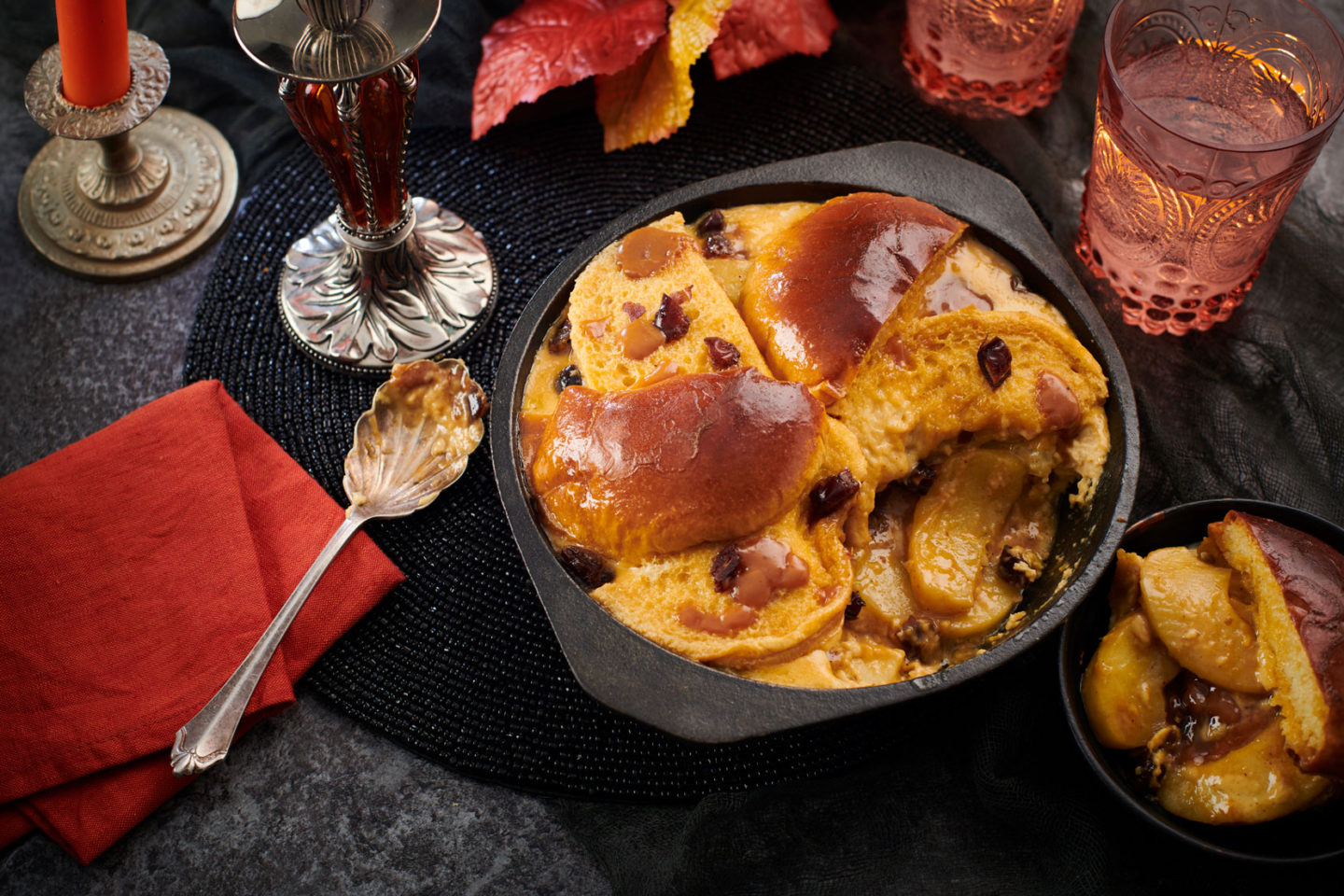 Recipe
Sticky Toffee Apple Pudding
Sticky Toffee Apple Pudding
Prep: 1 hour
Serves: 2 to 3
Enjoy all the flavours of a toffee apple with an added touch of Parisian flair.
Apples, toffee sauce and golden soft brioche, this original Toffee Apple Pudding recipe is the taste of Autumn in every bite.
Ingredients
2 or 3 St Pierre Brioche Burger Buns
2 firm eating apples (such as Braeburn)
1 tbsp butter plus extra for greasing
Good pinch mixed spice
250ml double cream
1 egg
2 tbsp toffee sauce
50g toffee, broken into small pieces
50g dates, chopped
Method
Preheat the oven to 170°C /180°C fan /Gas Mark 3. Grease a small to medium sized oven proof dish with butter and place on a baking tray
Peel, core and slice the apples. Melt 1 tbsp butter in a small frying pan and saute the apples gently for 5 -7 minutes
Add the mixed spice and cook for another 1-2 minutes until the apples are just tender
Spread half the apples over the base of the dish
Cut the burger buns vertically so that you have half-moon shapes and arrange the bottoms of the buns over top of the apples
Whisk the cream, egg and toffee sauce in a jug, then carefully pour half of the cream mixture over the buns in the dish
Scatter over half the chopped toffee and dates
Dip the top halves of the buns in the remaining toffee cream mixture then arrange in the dish
Scatter over the rest of the toffee pieces and dates then slowly pour the last of the cream mix all over the top
Loosely cover the dish with foil and cook in the oven on the baking tray for 20 minutes
Uncover and return to the oven for a further 10-20 minutes or until the top is golden and the cream mixture is just set
Serve warm with extra cream or custard if you like
Bon appétit!

4 Brioche Burger Buns
Give your burger the luxury treatment. St Pierre Brioche Burger Buns (also available in a pack of 6 buns or as Seeded Burger Buns) are ready sliced so you can start enjoying them even sooner. Deliciously decadent, gorgeously golden and sumptuously soft, try our brioche buns to upgrade your next burger night.
View product
Where to buy

6 Brioche Buns
Pre-sliced, deliciously soft brioche buns, ready to be filled with your favourite burger, our St Pierre Brioche Buns are made for you to take your time. Golden like a Parisian sunset with a plump texture to perfectly hold your filling together and a shiny glaze on top, this gently sweet brioche bun tastes great with every type of ingredient to take your meals to Paris.
View product
Where to buy