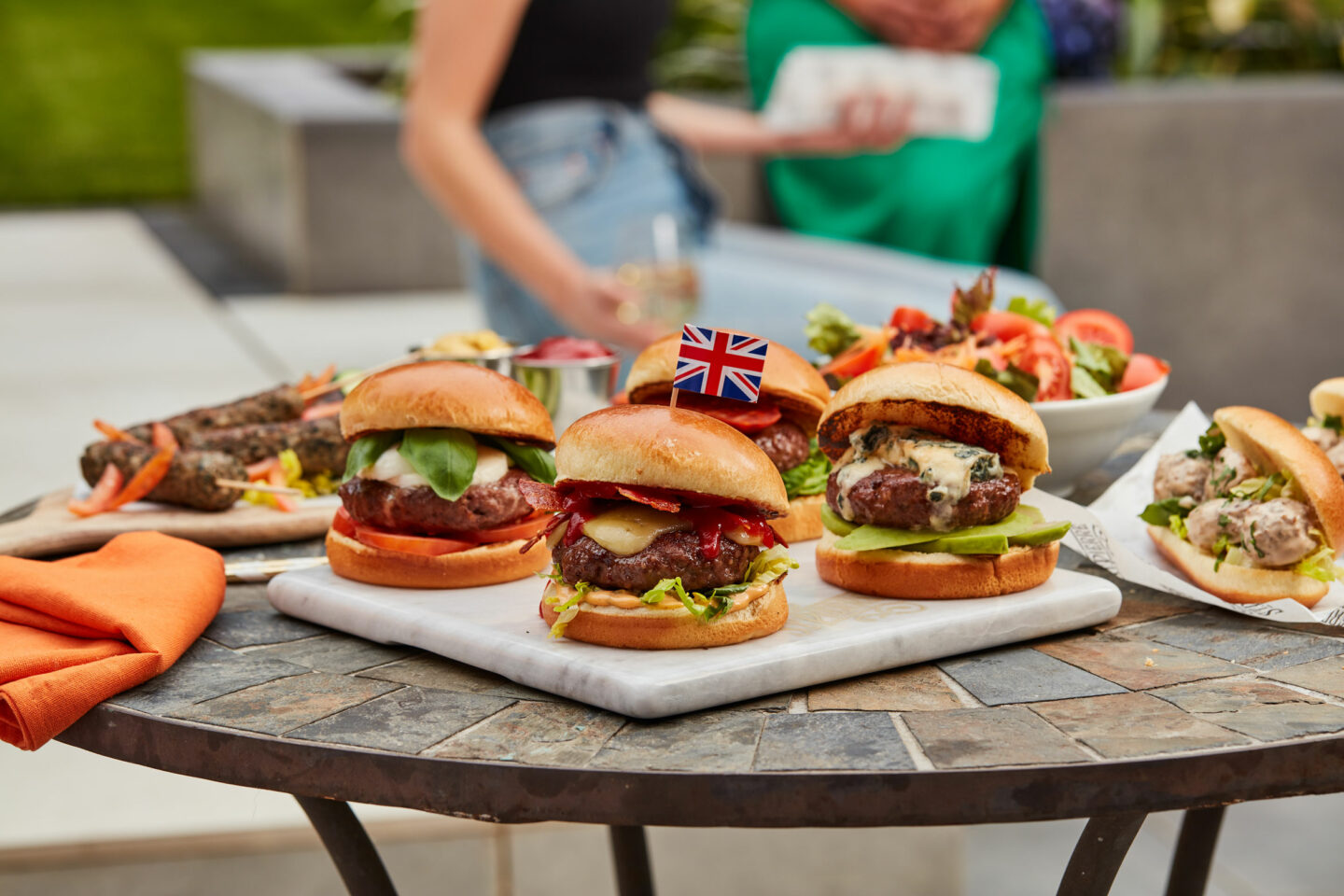 Inspiration
Jubilee Recipes: Ways to Celebrate with Brioche
From BBQ burgers to celebratory desserts, take a look at our ideas for celebrating the Jubilee bank holiday weekend using St Pierre brioche.
If you're planning a celebration for The Queen's Platinum Jubilee bank holiday weekend, take a look at our Jubilee recipes for some simple but impressive food inspiration.
Whatever you have planned, whether you're hosting or attending a street party, are having family and friends around to celebrate or are keeping it low key, be sure to include St Pierre brioche as part of your celebratory meals.
The beauty of using St Pierre brioche for events like the Jubilee bank holiday weekend, as well as other occasions, is that it is so versatlie that you can use it in both sweet and savoury dishes, as well as for showstopping creations or everyday meals.
To help you celebrate in style we have come up with some delicious Jubilee recipe ideas and serving suggestions using St Pierre brioche.
Coronation Chicken Burgers
Using the classic flavours of a coronation chicken sandwich and transforming it into a BBQ burger, this is a great way to celebrate the Jubilee bank holiday weekend.
Featuring coronation chicken, crunchy raisin slaw, tangy salsa, some thinly sliced red onion and lettuce and a dollop of mayonnaise, all served inside a St Pierre Brioche Burger Bun makes for a magnifique addition to any Jubilee celebration.
Brioche Sandwich Platter
For a simple way to create a showstopping sandwich platter, simply use our new Brioche Soft Bagels alongside slices of our Brioche Loaf and our Brioche Baguettes. The beauty of all three of these St Pierre products is that they can be filled with whatever crowd-pleasing sandwich fillings you like and can then be sliced up into bite-sized sandwiches for an impressive spread to serve to your loved ones.
Brioche Jubilee Trifle
Inspired by Jemma Melvin's Lemon Swiss Roll and Amaretti Trifle, winner of BBC One's The Jubilee Pudding: 70 Years In the Baking, we have recreated this grand dessert using our Tear & Share.
To make this royal dessert, separate out the swirls in a St Pierre Tear & Share, smother in lemon curd and fill the bottom of a trifle dish. Pop in some mandarin segments before pouring over some orange jelly. Set aside in the fridge to set. Once it has set layer on the custard and whipped cream. Decorate with amaretti biscuit, white chocolate shards and more mandarin segments.
A classic sign of the British summer is when glasses of Pimm's are served. So why not create a dessert out of this quintessentially British summer drink. Using St Pierre Brioche Loaf, slices of strawberries and raspberries soaked in Pimm's and a Pimm's-infused cream all layered together to create a delicious dessert that is worth making this bank holiday.
Use our Where to Buy page to find out where you can buy our products near you to help you create these Jubilee recipes and if you need more inspiration this bank holiday weekend, check out our recipe page for more ideas.
If you do try any of these Jubilee recipes be sure to take a picture and tag is @stpierreeurope on Instagram and Facebook. We would love to see how you have celebrated this royal occasion using St Pierre products!