Inspiration
Ways To Serve Our Brioche Swirls
From sweet treats to delicious breakfasts, see what you can make with St Pierre's Brioche Swirls. Now available in Sainsbury's!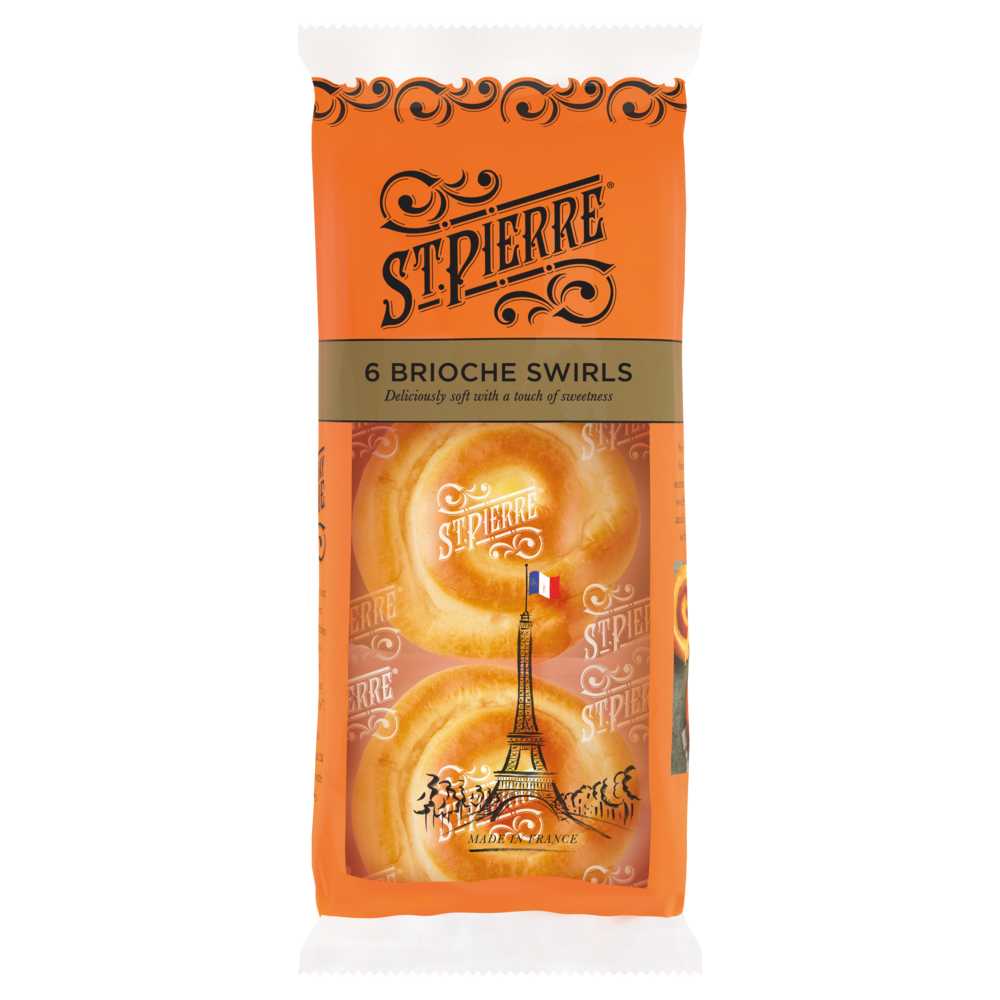 6 Brioche Swirls
Sweet and soft like a breeze on a Parisian summer day, our St Pierre Brioche Swirls combine rich, golden brioche and sweet, creamy vanilla custard for a whirlwind of flavour. Each are wrapped on its own to keep them fresh, so you can enjoy whenever and wherever you want.
As a breakfast treat, a midday snack or an indulgent dessert, it's simply "Magnifique"!
View product
Where to buy
To celebrate the launch of our Brioche Swirls in Sainsbury's, we have come up with six new recipes for you to try. From delightful breakfast ideas to magnifique desserts that take very little time to make, there is something for everyone.
Don't forget to take a look at our Where to Buy page to find your nearest Sainsbury's that stocks our range!
Bread and Butter Brioche Pudding
A classic dessert elevated with St Pierre brioche. Use our Brioche Swirls as the base of the pudding before covering in an egg custard and fresh berries and baking until cooked. A simple yet delicious dessert, perfect for when you want to impress your family and friends.
Banoffee Brioche Swirl
Inspired by the classic Banoffee Pie but adding a touch of Parisian flair using our Brioche Swirls or Chocolate Chip Brioche Swirls as the base of the pudding before covering in egg custard. Fill with caramel sauce and sliced bananas before popping onto a panini press and toasting until the brioche is golden brown, these Banoffee Swirls are fantastique as a warming afternoon treat or served with ice cream as a sweet end to a meal.
If you don't have a panini press, simply heat for a few minutes in the oven until the brioche is lightly toasted on top.
Berries and Cream Brioche Swirl Pie
These berry 'pies' are a quick and easy alternative if you don't have time to start rolling out the pastry and baking from scratch. Cut a Brioche Swirl in half before warming in the oven for a couple of minutes, then fill with some stewed fruit and a spoonful of cream. You can use whatever fruit you like, although we have opted for blackberries and apples here!
Fruity 'N' Nut Breakfast Spread
Not only do our Brioche Swirls make an excellent base to any dessert, they can also be used to elevate your morning. Create a delicious brioche board with colourful fruits, sticky honey and crushed nuts, using the Brioche Swirls as the base to your morning masterpiece.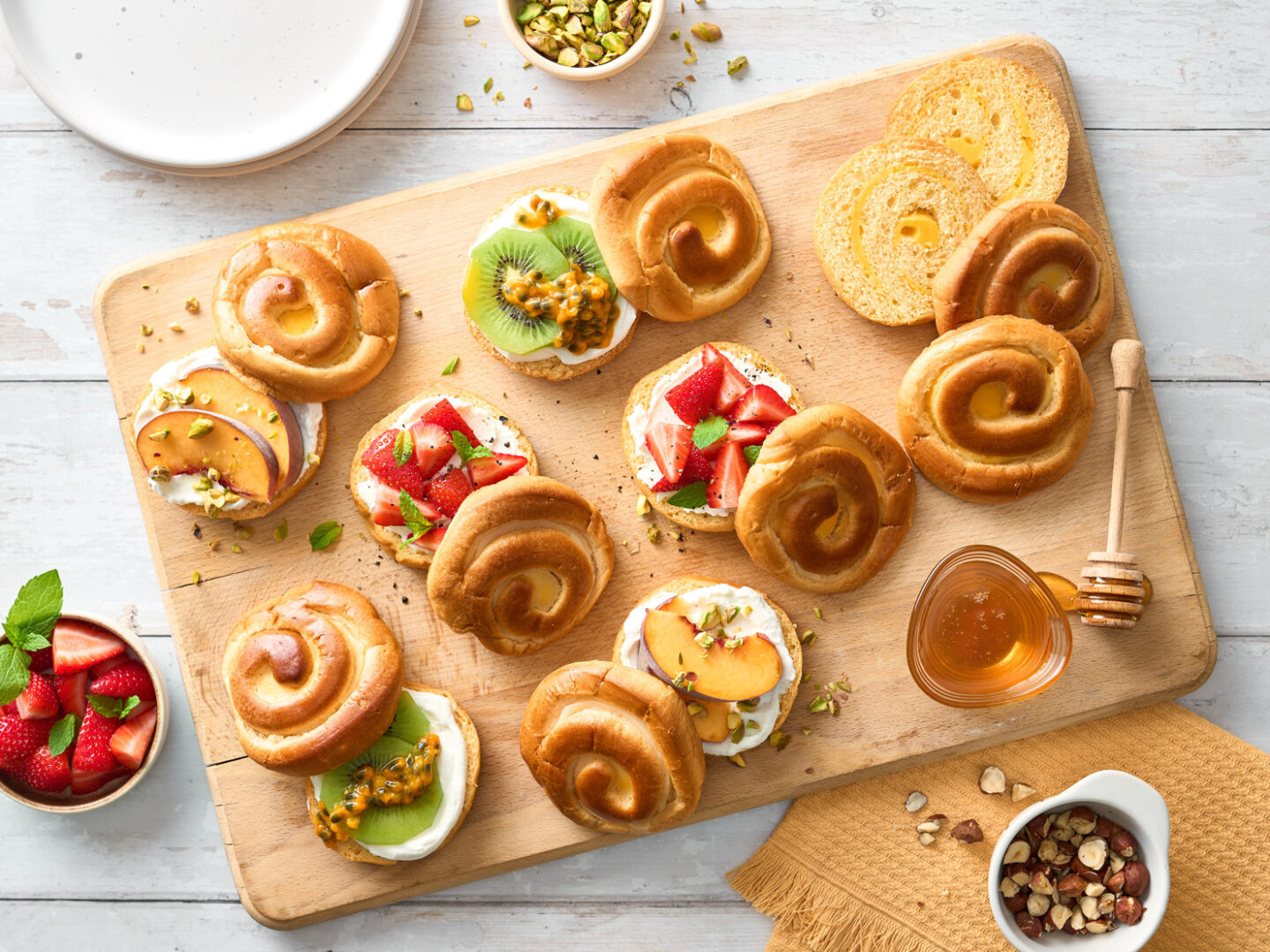 The vanilla custard adds that little extra je ne sais quoi to your morning. You can use whatever combination of fruits and toppings you like but here are some that we have done to give you some inspiration:
Kiwi, passionfruit and Greek yoghurt
Strawberries, mint and mascarpone
Peaches, pistachios and ricotta
Chocolate & Coffee Dessert
Now this dessert is the true meaning of a showstopper and will certainly wow your guests at your next party. Using our Chocolate Chip Brioche Swirls to line a trifle dish before filling the middle with chocolate cream, coffee mascarpone, brownies and some more Brioche Swirls. Once you have filled the dish, decorate the top with more brownie pieces, chopped up Brioche Swirl and a sprinkle of grated chocolate.
6 Chocolate Chip Brioche Swirls
Light vanilla custard, smooth chocolate chips, and folds of golden brioche, come together in a swirl of flavour. Our St Pierre Chocolate Chip Brioche Swirls are soft indulgent spin on a classic French "brioche au chocolat." For any time you need to bring a little sweetness to your day.
Each swirl is wrapped separately on its own for added freshness. They're ideal for snacking on – any time you want!
View product
Where to buy
---
If you want anymore inspiration on how to serve our Brioche Swirls, then check out our recipe page here. Be sure to take a picture and tag us @stpierreeurope on Instagram and Facebook if you try out any of these recipes.