Recipe
Bacon Cheeseburger Bagel
Bacon Cheeseburger Bagel
Prep: 40 Minutes
Serves: 2
Add a little twist to burger night and serve your bacon cheeseburgers inside a Brioche Bagel instead!
Try something different for your next cheeseburger night and serve them in a St Pierre Brioche Soft Bagel instead. Featuring homemade burger patties, melted cheese and crispy bacon all served inside a warm Brioche Bagel, you won't want your burgers any other way. Serve alongside some parsley fries and your favourite sauce to take your burger night to the next level.
Ingredients
2 St Pierre Brioche Soft Bagels
300g steak mince
Salt & pepper
4 rashers bacon
2 slices cheese – we like Monterey Jack
Handful lettuce leaves
1 large tomato, sliced
Your favourite sauce
Seasoned fries
Fries
½ tsp dried parsley
Salt & pepper
Method
Place the minced beef into a bowl and season well with salt and pepper before mixing together
Split the mince in half and create two patties that are slightly larger than the bagels
Heat a frying pan or griddle and fry the burgers over a medium heat for around 5-6 minutes on each side, making sure they are cooked all the way through
Meanwhile preheat the grill and cook the bacon to your desired crispiness
When the burgers are almost ready, top them with the sliced cheese and turn off the heat
Pop a lid on the pan if you have one, so that the cheese starts to melt
Lightly grill the insides of the bagels – around 1-2 minutes – until they are golden brown, before layering on the lettuce and sliced tomato
Add the cheesy burgers and crispy bacon before popping the top of the bagel on
For the seasoned fries, cook according to the instructions
Mix the dried parsley and a generous pinch of salt and pepper in a small bowl
To serve sprinkle the chips with a little of the herby salt and pepper
Serve the fries alongside the bagel cheeseburger, with pots of your favourite sauces on the side. We've gone for burger sauce and ketchup
Bon appétit!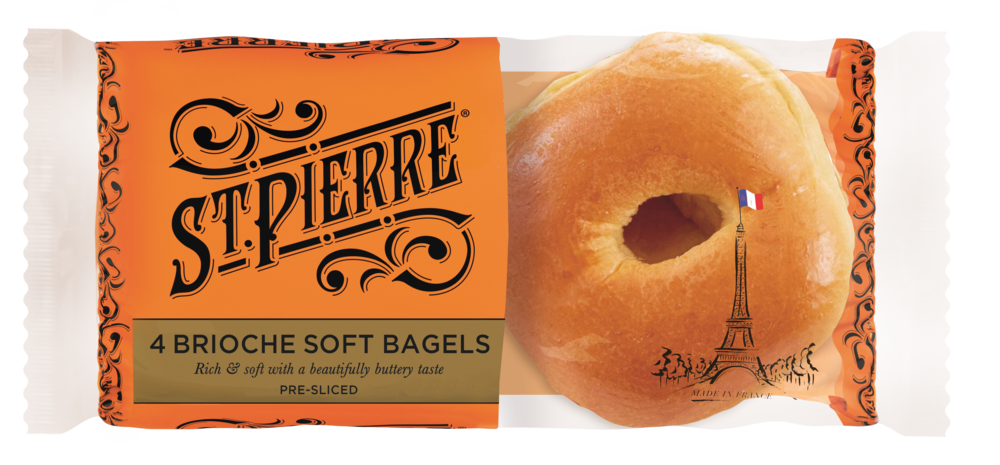 4 Brioche Soft Bagels
Try our take on a New York classic with a St Pierre Parisian flair. Our Brioche Bagels are lightly sweet, golden and soft – ideal for a decadent lunch or breakfast on the go.
This French-inspired twist on the classic is delicious any time of the day. The ideal canvas for your favourite toppings – from smoked salmon with cream cheese to a classic BLT sandwich – with our bagels every meal is magnifique.
View product
Where to buy