Recipe
Gingerbread Buttercream Bagels
Gingerbread Buttercream Bagels
Prep: 20 Minutes
Serves: 4
Warming Christmas flavours such as gingerbread and dark chocolate, combined with lightly sweet St Pierre brioche, makes for a magnifique Parisian treat.
Warmly spiced gingerbread cream inside lightly sweetand soft St Pierre Brioche Soft Bagels topped with rich dark chocolate make a delicious dessert packed full of seasonal flavours. Perfect as an afternoon treat to accompany your spiced latte, these Gingerbread Buttercream Bagels will be your go-to sweet treat this festive season.
Ingredients
4 St Pierre Brioche Soft Bagels
200g salted butter, softened
2 tsp ground ginger
2 tsp ground mixed spice
350-400g icing sugar, sifted
1 tbsp hot water
100g dark chocolate
1 or 2 gingerbread biscuits, crumbled
Method
Using an electric hand whisk or wooden spoon, beat together the softened butter, ground ginger and mixed spice, then add half the icing sugar and beat slowly until combined
Beat in 1 teaspoon hot water, then gradually add the rest of the icing sugar and beat well. Transfer to a piping bag fitted with a large star nozzle and set aside
Break the chocolate into a heatproof bowl and melt at medium power in the microwave in 30 second bursts, stirring in between
Alternatively, place the chocolate in a heatproof bowl resting above a pan of hot but not boiling water, and stir until melted
Dip the top halves of the bagels in the melted chocolate then sprinkle with gingerbread crumbs
Pipe the gingerbread cream onto the bottom halves of each bagel then pop on the chocolate dipped lids
Bon appétit!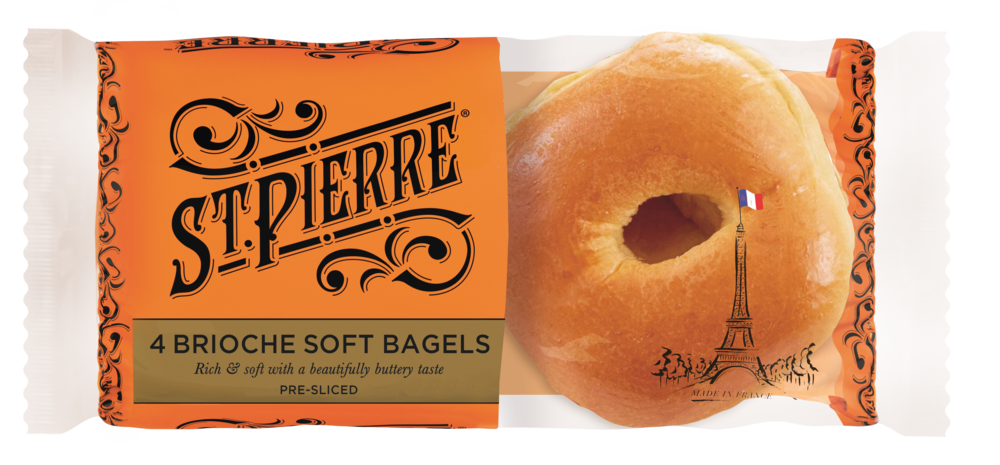 4 Brioche Soft Bagels
Try our take on a New York classic with a St Pierre Parisian flair. Our Brioche Bagels are lightly sweet, golden and soft – ideal for a decadent lunch or breakfast on the go.
This French-inspired twist on the classic is delicious any time of the day. The ideal canvas for your favourite toppings – from smoked salmon with cream cheese to a classic BLT sandwich – with our bagels every meal is magnifique.
View product
Where to buy