Recipe
Scrambled Egg & Avocado Brioche Bagel
Scrambled Egg & Avocado Brioche Bagel
Prep: 20 Minutes
Serves: 2
Treat yourself to a deliciously indulgent breakfast sandwich.
Inspired by the popular Egg Slut sandwiches, this Scrambled Egg and Avocado Brioche Bagel is certainly an indulgent affair. With creamy scrambled eggs and fresh avocado topped with slices of cheese and onion and a little sriracha mayo to add some spice, all inside a golden St Pierre Brioche Soft Bagel to make a magnifique breakfast sandwich. You won't want to start your day off any other way.
Ingredients
2 St Pierre Brioche Soft Bagels
2 eggs, whisked
1 tbsp butter
Chives, chopped
1 avocado, thinly sliced
1 onion, sliced
2 slices cheese
Sriracha mayonnaise
Method
Gently scramble the eggs with butter in a saucepan over a medium-high until rich and creamy, making sure the eggs don't overcook
Add in the chopped chives and season to taste. Remove from the heat once cooked
Meanwhile fry the onions in a separate pan for 5-6 minutes. Once cooked, remove from the heat
Grill the Brioche Soft Bagels until golden – around 1-2 minutes – before layering on the sliced avocado, scrambled eggs, cheese and fried onions
Add a generous helping of sriracha mayo and pop the top of the bagel on
Bon appétit!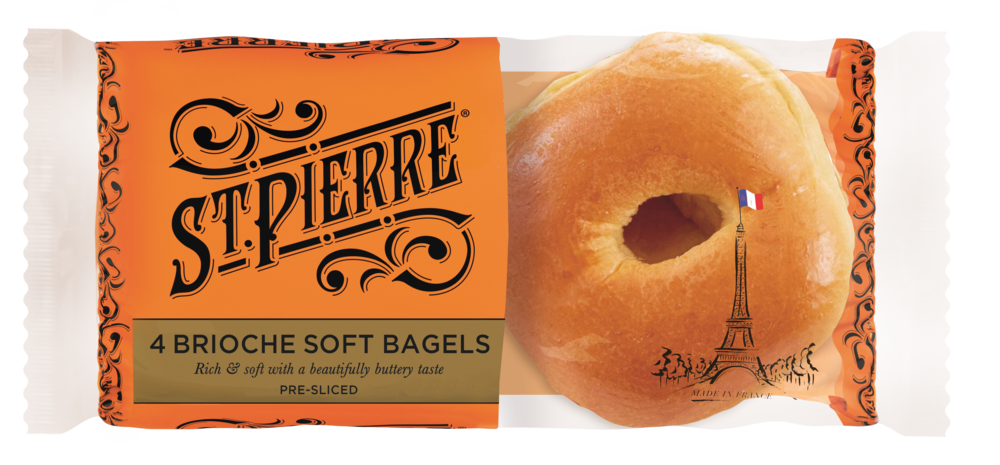 4 Brioche Soft Bagels
Try our take on a New York classic with a St Pierre Parisian flair. Our Brioche Bagels are lightly sweet, golden and soft – ideal for a decadent lunch or breakfast on the go.
This French-inspired twist on the classic is delicious any time of the day. The ideal canvas for your favourite toppings – from smoked salmon with cream cheese to a classic BLT sandwich – with our bagels every meal is magnifique.
View product
Where to buy