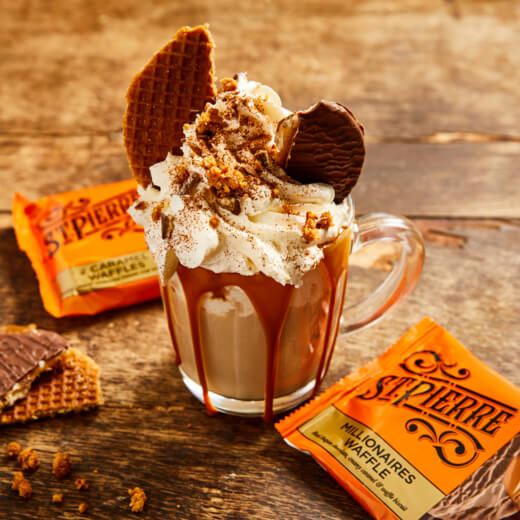 Recipe
Christmas Caramel & Millionaires Waffle Freakshake
Christmas Caramel & Millionaires Waffle Freakshake
Indulge this season with our festive freakshake
Ingredients
2 scoops vanilla ice cream
250ml semi-skimmed milk
1 tbsp caramel sauce
For the toppings
1 scoop vanilla ice cream
Whipped or spray cream
1 tsp caramel sauce
1 St Pierre Caramel Waffle, broken into small shards
1 St Pierre Millionaires Waffle, broken into small shards
Method
Blend together one scoop of vanilla ice cream, semi-skimmed milk and caramel sauce until a thick milkshake consistency. Add extra ice cream if needed.
Pour the milkshake into a tall glass and top with a scoop of vanilla ice cream, a swirl of squirty cream, a drizzle of caramel sauce and shards of the broken Millionaires Waffle and Caramel Waffle.
Millionaires Waffle
Indulge in this ready-to-eat stroopwaffle with a classic Millionaires twist. A traditional crispy waffle biscuit and creamy caramel centre, coated in real Belgian chocolate – it's the perfect treat to unwrap and enjoy on the go.
View product
Where to buy