Recipe
Christmas Caramel & Millionaires Waffle Freakshake
Christmas Caramel & Millionaires Waffle Freakshake
Prep: 5 minutes
Serves: 1
Our festive version milkshake
Indulge in the ultimate freakshake this season, using not just one but two of our On the Go waffles with caramel. You are going to love it!
Ingredients
1 St Pierre Caramel Waffle
1 St Pierre Millionaires Waffle
3 scoops vanilla ice cream
250ml semi-skimmed milk
1 ½ tbsp caramel sauce
Whipped or spray cream
Method
Blend together one scoop of vanilla ice cream, semi-skimmed milk and 1 tablespoon of the caramel sauce until a thick milkshake consistency
Add an extra scoop of ice cream if needed
Pour the milkshake into a tall glass and top with a scoop of vanilla ice cream, a swirl of squirty cream and the rest of the caramel sauce
Top with shard of broken Millionaires and Caramel Waffle
Bon appétit!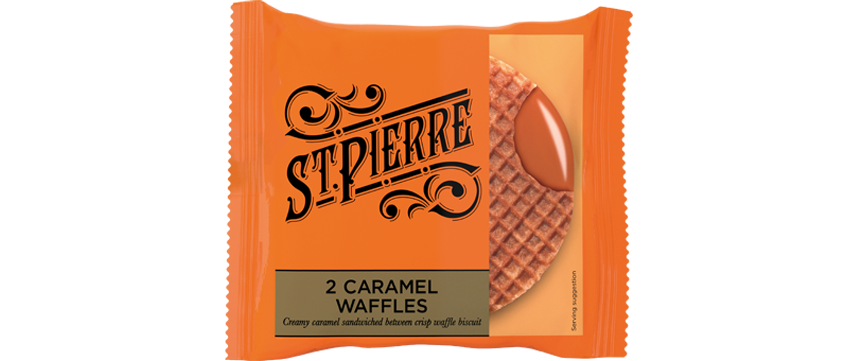 2 Caramel Waffles
A favourite treat in Holland that slows down time. Our St Pierre Caramel Waffles, created using an authentic 'Stroopwafel' recipe, have a centre of sweet and gooey caramel, between two delicious waffle biscuits. Enjoy it on the go with a warm coffee, and your day will become just a little bit sweeter.
They come in a pack of 2 for easy treating. Perfectly crispy with a soft, sweet flavour, it's a great on-the-go snack for the ultimate treat.
View product
Where to buy
Millionaires Waffle
Smooth chocolate, gooey caramel centre, and a delicious traditional crumbly waffle: indulge in this ready-to-eat stroopwaffle with a classic Millionaires twist. Our St Pierre Millionaire's Waffle coated in real Belgian chocolate, is the sweetest way to enjoy your break. Simply unwrap and enjoy on the go.
It's the perfect treat to awaken your senses and enjoy a moment of decadence, wherever you are.
View product
Where to buy