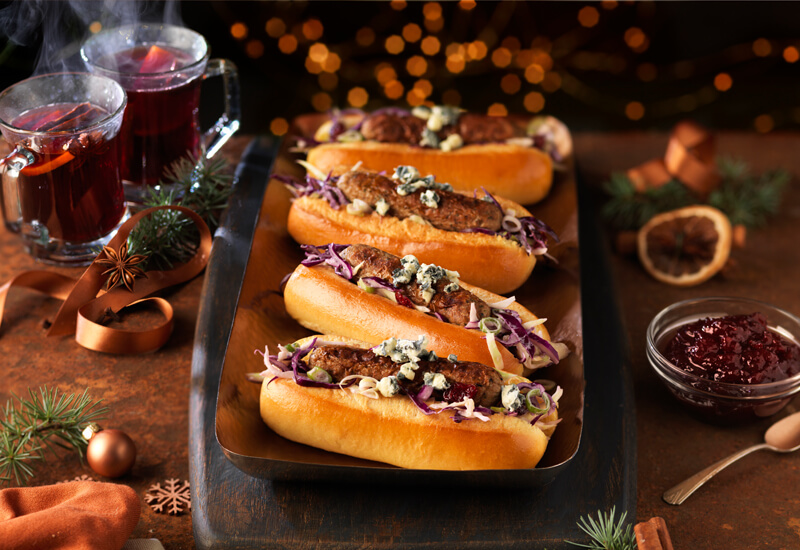 Christmas: Veggie Hot Dogs
A meat-free alternative to our Christmas hot dogs, packed full of festive flavours – perfectly served with a glass of mulled wine
Prep: 20 minutes
Serves: 6
Ingredients
1 pack of St Pierre Brioche Hot Dog Rolls (6-pack)
6 vegetarian or meat-free sausages
2 tbsps blue cheese, crumbled into small pieces

For the cranberry slaw:
1 large handful of red cabbage, final chopped or grated
1 large handful of white cabbage, finely chopped or grated
2 spring onions, finely sliced
1 handful of dried cranberries
2 tbsps mayonnaise
Method
Cook vegetarian sausages as per the instructions on the pack. Add the St Pierre Brioche Hot Dog Rolls to the oven two minutes before the vegetarian sausages are cooked to warm them through.
Meanwhile, make the coleslaw by mixing the finely chopped or grated vegetables and dried cranberries with the mayonnaise in a bowl.
Make the vegetarian hot dogs by adding a couple of spoonful's of cranberry slaw to the Brioche Hot Dog Rolls, and then place the vegetarian sausage on top. Finish with a small amount of crumbled blue cheese on top.
4 Brioche Hot Dog Rolls
Side-split, golden and plump brioche rolls, ideal for your favourite hot dog. Perfectly matched to all the ingredients you love, it's great with any sauces or condiments – so why not try with camembert and dijonaise?
View product