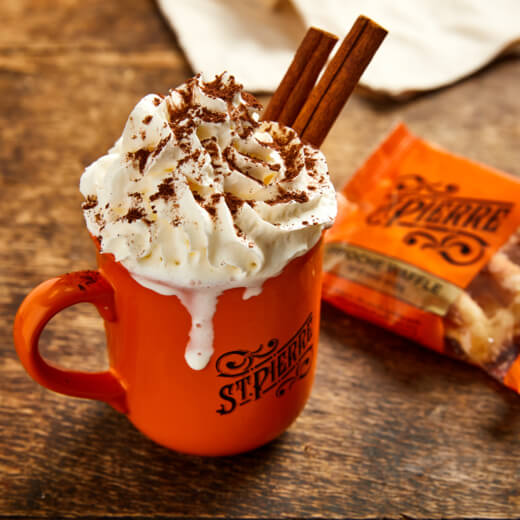 Recipe
Christmas Cinnamon & Orange Liqueur Hot Chocolate
Christmas Cinnamon & Orange Liqueur Hot Chocolate
Dunk one of our Brioche Waffles in this sweetly spiced hot chocolate for the ultimate festive sweet treat
Ingredients
St Pierre Brioche Waffle
Half of 100g bar of dark chocolate, broken into small pieces
3 tbsps boiled water
235ml milk
1 cinnamon stick
Peel of 1 orange
25ml orange liqueur (optional)
Whipped cream
Cocoa powder
Method
In a saucepan over a low/medium heat, melt the broken dark chocolate pieces over the stove and add 3 tbsps of boiled water to make it a little runnier.
Once the dark chocolate has melted, add in the milk, cinnamon stick and fresh orange peel, as well as the orange liqueur if you are using it.
Heat the ingredients through and pour into a large mug. Top with whipped cream and a sprinkling of cocoa powder.
Serve with a St Pierre Brioche Waffle on the side – tear pieces off to dunk into your hot chocolate!
Brioche Waffle
Combining the richness of brioche with the sweet indulgence of a Belgian waffle, our St Pierre Brioche Waffles are studded with pearl sugar for a nice crunch, and turn any time of day into a moment of indulgence.
View product
Where to buy